2017 "Top Ten Brands of China Floor Brand Value" list was released
[China Flooring Network] Since the launch of the "Top Ten Brands of Chinese Floor and Top Ten Brands in China", it has gone through the registration period, voting period, and professional review period, and has received widespread attention from many people in the industry. On September 15th, with the expectations of the public, the 2017 "Top Ten Brands of China and Top Ten Brands in China" was selected to have reached the most exciting moment. The results of the awards were announced one by one. Treating strong attention.
Brand value is the core part of the brand management elements, and it is also an important symbol of the brand that is different from similar competitive brands. The floor industry that has gone through more than thirty years has more experience in brand management, and pays more attention to the construction of brand value, and enhance brand value in terms of strict control of quality or innovative technology. The purpose of setting up the "Top Ten Brands of Chinese Floor Brands" this time is to drive more companies to enhance their brand value with the power of example.
Appendix: 2017 China Floor Brand Value Top Ten Brands Award List (the ranking is not divided, according to the brand's first Chinese strokes to arrange less)
Top Ten Brands of Chinese Floor -Dali Tree Floor (Dayi Tree Floor Co., Ltd.)
Dali Shi Floor is an international floor brand facing the Sino -US market. It has a factory area covering an area of ​​130,000 square meters and is currently the largest solid wood composite factory in China. Since entering the US market in 2009, it has become the number one export volume for eight consecutive years, and has become a member of the American Floor Association and the World Floor Association. Through the three major international environmental protection certifications of the most stringent Carb2, Floor Score, and Greenuard in North America. The Great Art Tree Floor adheres to the international strategy of "the same synchronization, homogeneous price" of China and the United States. It is sold well in China and the United States. It is the true international brand of the Chinese floor industry.
Top Ten Brands of Chinese Floor -Shangchen Floor (Zhejiang Shangchen Home Furnishing Technology Co., Ltd.)
Shangchen has a huge sum of money to build a large -scale new factory of modernization, standardization, and environmental protection of 100,000 square meters. At the same time, it has introduced international leading production equipment and ingeniously builds home products, becoming a leading brand in China's home furnishing industry. Shangchen Floor is committed to building a high -quality and healthy home living environment for consumers. In the face of consumers' high requirements for flooring environmental performance, Shangchen Product Research Institute integrates the advantages of clean -up technology and Germany's strong fertility coatings. R & D and launched a clean -aldehyde -level floor.
Top Ten Brands of Chinese Floor -Nature Floor (Nature Home (China) Co., Ltd.)
As a leading company in the "World Excellent Nature Protection Supporters", nature Home actively promotes the research and development and production of healthy and environmentally friendly products, and gradually builds a sustainable green industry chain. All aspects strive to reduce carbon emissions and take the initiative to assume the social responsibility of energy conservation and emission reduction.
Top Ten Brands of Chinese Floor -Holy Elephant Floor (Holy Elephant Group Co., Ltd.)
Since the establishment of an enterprise, the Holy Element has adhered to the strategy of "innovating small environmental protection and respect for large environmental protection". While ensuring that consumers get natural and healthy home life, they do not have a burden on the ecology, focus on product innovation, and give products with technology to give products with technology to give products with products. The beauty of nature, not excessive grabbing natural resources. The three major categories of products owned by the Holy Elements are products with the lowest resource consumption and optimized function in the industry.
Top Ten Brands of Chinese Floor -Linchang Floor (Zhejiang Linchangmu Co., Ltd.)
Lin Changshen has cultivated the flooring industry and has accumulated rich wood work technology and experience. Relying on the deep accumulation, a large group brand pattern with flooring, wooden doors, whole wooden customs, and wall cloths is formed. Proposed a new brand claim of "living different Young", and under the guidance of Lin Chang's spiritual guidance of "constant breakthroughs, surpassing self", he was committed to making enterprises a "industry leader, indoor home decoration system solution provider". The new cultural style, condensing up and down, united, driving Lin Chang to continue to bring better products and services to society.
Top Ten Brands of Chinese Floor -Golden Elephant Floor (Suzhou Golden Elephant Wood Co., Ltd.)
Golden Elephant Floor integrates green and environmental protection concepts into brand culture, and advocates a new concept of "healthy home and healthy life". The appearance of the three -story solid wood floor of the Golden Elephant retains the texture and touch of the solid wood flooring, and at the same time, it has the characteristics of high stability, scraping and wear -resistant, etc., and uses cold pressure technology throughout the process, and the environmental protection level meets the E0 standard. The Golden Elephant Change Disco series has repeatedly tested through the Golden Elephant Handicraft Master, using pure handmade section to lay the foundation for the discoloration, and hand -made coloring craftsmanship. After 3 techniques of 7 professional scratchists, it is committed to creating a perfect floor. Craftsman's ingenuity, do one thing to the extreme.
Top Ten Brands of Chinese Floor -Spring Floor (Spring Group Co., Ltd.)
Spring flooring was put into production in 2011, and introduced a full set of advanced production equipment and powerful cutting -edge science and technology research and development talents in Germany. With the demands of product quality and forward -looking product research and development capabilities in spring, it has formed a three -layer solid wood as the lead. The product structure of the category floor is steadily followed up. Spring flooring A -class substrate, using Finnish Taier plant glue, imported from Germany to implement 3C and CCEL country environmental certification to protect your health of your and your family, and is not harmed by formaldehyde. After multiple bottom paint penetration and wear -resistant surface paint, it shows the gorgeous wood grain and ensures the wear resistance of the floor, which meets the public's aesthetic needs.
Top Ten Brands of Chinese Floor -Rhein Sunshine Floor (Corino (Jiangsu) Floor Co., Ltd.)
Over the years, Rhein Sunshine Floor has been committed to the research of healthy and environmentally friendly flooring, and has continuously provided products with healthier and more decorative effects for the market. With the best base material production base in the country, through the opening of the entire industrial chain, standardized management from production, sales to floor installation.
Top Ten Brands of Chinese Floor -Newel New Elephant Floor (Sichuan New Elephant Smart Home Co., Ltd.)
Founded in 1999, it invested 350 million yuan to build a modern production base covering an area of ​​60,000 square meters in Chengdu. The company is equipped with a variety of large German professional machinery and equipment. All products are designed by British Newwell Design Co., Ltd. and are fashionable and environmentally friendly. At the same time, we also have 17 national patents and 800 specialty stores. It is the most trusted floor brand for millions of users.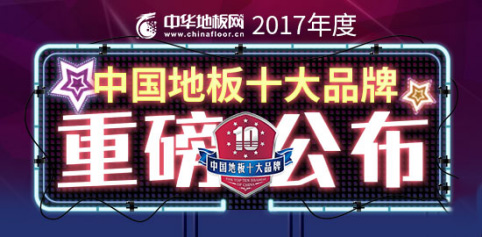 Top Ten Brands of Chinese Floor -Ruicheng Floor (Zhejiang Ruichengmu Co., Ltd.)
The first is the care of the whole family, and it is "Rui". The series of products are designed according to the elements of Chinese Feng Shui blessings, bringing blessings to the home environment and making people refreshing. The second is human care, and health is "Rui". All of the good materials for environmental protection are used to create a good floor that can breathe and create a healthy living environment. The third is to enjoy worry -free, peace is "Rui". Adopt high -tech to ensure that the floor paint is abrasion -resistant and anti -scratch, allowing the family to play on the floor and enjoy the happiness of the house.
(Disclaimer: The results of this selection are comprehensive evaluation of the three comprehensive assessments of online voting, professional evaluation and consumer questionnaire survey, for reference only. The selection results must not be used for various planes, film and television, printing, etc.).)
---