Health consumption becomes a consumption upgrade Xinfengkou Huizhou Great Health Industry is very promising
If the vegetables should be eaten with insect eyes, the shampoo should be used for silicone without silicon oil, and two wheels must be selected … As the quality of life increases, the citizens have continued to upgrade their health's demands. Today's health consumption has changed from changing from medicine to prevent problems. Green diet, sports and outdoor activities have become the mainstream of health consumption. Various fitness venues and sports venues have become the most lively venues in the city. Waiting for off -road methods to be favored. Health consumption has become a new "wind" for consumption upgrade.
Alibaba and First Financial Business Data Center and DT Finance jointly released the "Tmall Double 11 Ten Years Insight: New Consumption Era" report shows that in 2018 Tmall "Double 11", "Health" quality consumption quietly became consumer upgrade The main force.
"Health consumer demand may become my country's largest consumer demand in the future," said experts.
Exercise health is increasingly valued. Yoga, cycling and other movements have become part of many people's daily life. Huizhou Daily reporter Zhang Fei
Healthy diet
Interviewees believe that food green and healthy ranks first
People use food as the sky. Nowadays, people's demand for diet is not only satisfied with three meals a day, but also pays more attention to green, healthy, and safe.
Consumers interviewed by the reporter agreed that the green health of food was ranked first. Some "particular" consumers said that they only dine in a few fixed restaurants, because they knew that the food there was safe; some people said that some people said Choose to cook at home as much as possible, so rest assured. Many merchants also play the "health" card, either to make the kitchen into an open "Ming Kitchen Liang Stove", or emphasize the safety of ingredients, or plant organic vegetables by themselves. Guests are now picking up.
On July 13th, the "Selenium Search Tour" trial activities co -organized by Huizhou News Media Group and the selenium stew, more than 50 netizens gathered the small selenium farmers to taste healthy food. "All selenium -rich ingredients are fed by their own farms." The person in charge of small selenium farmers introduced that all selenium -rich agricultural products of small selenium farmers have been identified and tested by the National Product Quality Supervision and Inspection Center. The selenium content of all agricultural products fully meets the standards.
After health and health became a hot topic for the new generation of young groups, a healthier way of health gradually became younger. According to the "2017 Health Consumption Report" released by Ali Health, honey, wolfberry, gelatin, bird's nest and other nourishments have become more and more Chinese white -collar desks "standard".
Xiao Bai (a pseudonym) who graduated from college last year, don't look at her younger, but a health -career. The first thing she went to the office every day was to make a cup of hot health tea, and then turned on the computer and enjoyed her health tea while office. "Sometimes it is red dates and wolfberry tea, sometimes it is wolfberry chrysanthemum tea, and sometimes a cup of cool and thirsty lobby honey tea." Xiaobai said.
Ms. Huang, who is in her 30s, has been drinking Gling tea every day and has persisted for many years. Ganoderma is basically prepared at home and never lacks stock. "My father likes to drink Ganoderma tea. Slowly, our whole family drinks. I heard that drinking often can improve immunity." Ms. Huang said.
Sports Health
It is increasingly becoming the main way for people to reach health demands
Cycling, playing, fitness … In Mr. Wen's notepad, the time after work is scheduled, and the exercise within a week is basically unsatisfactory.
Mr. Wen, 30 years old, is a sportsman, but he was still an Internet addiction youth 5 years ago. "Previously, my amateur life was playing games, regardless of the day and night. Slowly, I felt that my body was getting weaker and weaker, and I couldn't mention the spirit all day long." Occasionally, Mr. Wen went online from the Internet. Knowing this sport, I felt very interesting at the time. After that, he often browsed and paid attention to this aspect, and after a slow understanding, he gradually fell in love with this sport. In Mr. Wen's words, it is "poisoning."
In addition, he began to slowly contact other sports. "Since falling in love with sports, in addition to work, my life is exercise and children." Mr. Wen said with a smile, "Exercise is endless, not only enhances physical fitness, but also meets many like -minded friends, which is much more interesting than the world in the Internet. "They have a WeChat group named" two rounds of world "with more than 50 cycling enthusiasts. They often invite riding in the group.
After the 70s, Ms. Wang is a business manager of an insurance company. She never hand softly to invest in health. "Health is the king. I have to practice air yoga twice a week, swim once, dance once, and spend about 5,000 yuan a year."
With the continuous upgrading of health consumption, while consumers are pursuing healthy and healthy, exercise health is constantly incorporated into the daily life of consumers, becoming the main way for people to achieve health demands. Nelson, a world -renowned performance management company, found that in terms of sports consumption, Chinese consumers average annual sports consumption of 1213 yuan, equivalent to one -tenth of the global average.
Citizens at all levels have different choices of exercise methods. For consumers in large and medium -sized cities, exercise is social; consumers in small cities prefer outdoor sports; and rural areas are more single. Data show that 36%of consumers in first -tier cities, 36%of the ball sports, 27%chose cycling, 33%of the swimming, 27%are more willing to go to the gym, all higher than the national average; while the second, third, and fourth -tier cities 80%, 81%, and 79%of consumers choose outdoor running, which is higher than the average of 73%in the country; 66%of rural areas choose outdoor running, and there are fewer choices for other sports methods.
Health and health
Many adult women 50 and below have ever run a beauty health card
Two years ago, Mr. Wang, who was nearly half a hundred years old, began to feel that his physical strength was not as good as one day, and he couldn't afford the spirit every day. However, at night, he couldn't sleep insomnia. Occasionally, he walked into a health care museum in Jiangbei with a friend. The Masters of Health Museum made a back push for him, and he immediately felt refreshing. Since then, he did not hesitate to run a long -term card. "Unexpectedly, there are really many people doing health care. Every time you go, you have to make an appointment, otherwise there will be no place." Mr. Wang said.
Since starting to pay attention to health, Mr. Wang's body is getting better every day. "The biggest feeling is that the whole person is relaxed. Lying down at night and 5 minutes to sleep." In April this year, the 45 -year -old wife also added a big fat to Mr. Wang. Don't keep your mouth.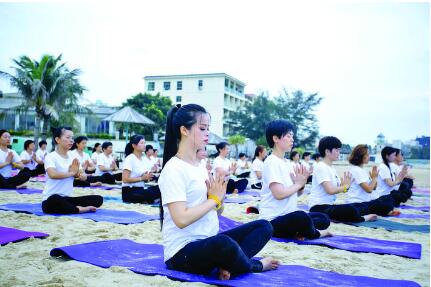 Mr. Wang, who tasted the sweet health care sweetness, reported a health class last year and opened a health museum in Mai Di at the end of the year. "Now people are willing to invest in health. At present, our museum members have reached more than 100 people." Mr. Wang said.
The reporter learned in random interviews that more than 80%of the interviewees have run a beauty health card. Nearly 30%of them will patronize the beauty and health museum once a week. Foot treatment, massage, moxibustion, acupuncture, etc.
Huizhou Opportunities >>>
Promote the development of the big health industry
With the public's attention to health, the development of the big health industry has gradually spawned.
Earlier, in 2017, the chairman of the Municipal Committee of the CPPCC proposal "Accelerating the development of the health care industry and focusing on creating a state of healthy and benefiting the people" was highly valued by the municipal party committee, municipal government, and municipal departments. To this end, the relevant departments specially invited the expert research team led by Lin Pingfan, a researcher at the School of Social Sciences of Guangdong Province to complete the "Research on the Planning of Huizhou Kangyang Industry Planning".
"Huizhou builds a large health industry, and can focus on building the three major support systems of health services, health manufacturing, and health and agriculture, and build a healthy industry system with Huizhou characteristics." Lin Pingfan believes that it should fully excavate and use Huizhou's ecology and resources, resources, and resources, and resources, resources, resources, resources, resources, and resources. The environment, industry, culture and location advantages, choose key links and advantageous industries with the "big health" concept, transform traditional industries with advanced technology and integrate with the health industry, and highlight the development characteristics of Huizhou industry in the form of "health+business".
In fact, in the context of "Healthy Huizhou", some counties (districts) in our city have begun to lay out a large health industry. For example, Huicheng District proposed to build Dongjiang Great Health Industry on the hinterland with Dongjiang Town (Street), making it one of the three major platforms built in the district; Boluo County proposed to build a national health industry base and traditional Chinese medicine innovation base The national patriotic education base "three bases" to create a large health industry gathering area; Longmen County takes biomedicine as a strategic emerging industry to focus on support, and build a good investment environment …
At present, Huizhou is at a critical moment of transformation and upgrading and towards first -class. The Chinese medicine industry is given an important part of the emerging pillar industrial status and the construction of Huimin. The Municipal Party Committee and Municipal Government clearly stated that it is necessary to develop the "2+1" modern industrial cluster at a high quality. Life and health industry.
"If you want to achieve the development of the big health industry into the third largest pillar industry with the two trillion -level pillar industries of electronic information and petrochemical industry, the most important thing is that our city urgently needs to study and formulate the" Huizhou Great Health Industry Plan ". The county (district) should also carry out the corresponding planning and design of the "Development Plan for the East River Health Industry Belt (2018-2025)" in Huicheng District to guide and promote the formation of a large health industry with distinctive characteristics, complementary functions and competitiveness in our city. And achieve rapid coordinated development, "said the relevant person in charge of the Municipal Health and Health Bureau.
Health China is in action >>>
Basically popularized a healthy lifestyle by 2030
In July of this year, the State Council issued a guide to China -"Opinions on the Implementation of Action of Healthy China" (hereinafter referred to as "Opinions"). The "Opinions" proposes the overall goal: by 2022, the health promotion policy system is basically established, the level of health literacy of the people will be steadily improved, and the healthy lifestyle will be accelerated; by 2030 The factors have been effectively controlled. The premature mortality caused by major chronic diseases is significantly reduced, and the life expectancy of per capita health expectations has been greatly improved. The main health index levels of residents have entered the ranks of high -income countries, and health and fairness are basically realized.
Specifically, it involves encouraging the whole society to participate in salt reduction, oil reduction, and sugar, and study the improvement of salt, oil, and sugar packaging standards. Amend the nutrition of pre -packaged food nutritional labels to promote the construction of the food nutrition standard system. Study the use of comprehensive means such as taxation and price adjustment to implement a series of actions such as tobacco control.
"The core of 15 special operations is around people's health, including two aspects, including disease prevention and health promotion. As an important symbol of national prosperity and national prosperity, it clearly emphasizes that prevention is the most economical and most effective strategy." Municipal health health and health. The relevant person in charge of the bureau said that chronic diseases are linked to healthy lifestyle, and bad eating habits, mental tension, smoking, alcoholism, and unhealthy lifestyle are the main causes of chronic diseases.
However, unhealthy lifestyles such as smoking, alcoholism, lack of exercise, and unreasonable diet can be changed. The main health risk factors are preventable and controllable.
The "Opinions" shows that by 2022 and 2030, the 5 -year survival rate of overall cancer will not be less than 43.3%and 46.6%, respectively. In terms of diabetes prevention and control, the health management of patients with diabetes and high -risk groups will be strengthened, and standardization and diagnosis and treatment of grass -roots diabetes and complications are promoted. By 2022 and 2030, the standardized management rates of diabetic patients will reach 60%, above and 70%and above, respectively.
It is worth mentioning that the "Opinions" also incorporated the main health indicators into the party committees and government performance assessment indicators at all levels. Important reference for leading cadres comprehensive assessment and evaluation and use of cadre rewards and punishments.
In this regard, experts predict that my country is expected to usher in the era of inclusive health. At the same time, it is expected that a series of supporting long -term mechanisms will be introduced around action, path, and goals.
Huizhou Daily reporter Zhang Fei
---