Market Supervision Administration: 10 batches of snow boots products are not qualified
China Quality News Network. According to the website of the General Administration of Market Supervision on May 28, recently, the General Administration of Market Supervision has organized 38 products such as cashmere sweater and other products quality. Among them, 90 batches of snow boots produced by 89 enterprises produced in 8 provinces (cities) in the field of circulation, found that 10 batches of products were unqualified, and the unqualified discovery rate was 11.1%. percentage point.
This focuses on 14 items such as the divestiture strength of the bottom of the bottom, the folding resistance of the shoe, and the decomposition of the harmful aromatic amine dyes. The unqualified items involve wear resistance, formaldehyde content, and phthalate.
According to the General Administration of Market Supervision, in response to the problems discovered by the national supervision and random inspections of this product, provinces, autonomous regions, municipalities, and Xinjiang Production and Construction Corps Market Supervision Bureau (Department, Commission) shall be in accordance with the "Quality Law of the People's Republic of China", "Product Quality Supervision and Sample Inspection The Provisional Measures of Management "and other regulations, guide municipal and county -level market supervision departments to do a good job of supervision and random inspection results.
National supervision random inspections and unqualified products and corporate lists
Serial number
Product Category
Inspection unit
Nominal production unit
Located in the nominal production unit
product name
Specification
Product level
Production date/batch number
Main unqualified projects
Inspection agency
Remark
1
snow boots
Hebei Dongzhijie Sports Industry Development Co., Ltd.
Beijing Shengzhuo Baili Trading Co., Ltd.
Beijing
37 39
Qualified product
2019/7/10/Product Number: COS204NCCO
Free or partial hydrolyzed formaldehyde
Shanghai Municipal Institute of Quality Supervision and Inspection Technology
2
Pinghu Eight Benn Commercial Management Co., Ltd.
Suzhou Zhuhong Trading Co., Ltd.
Jiangsu Province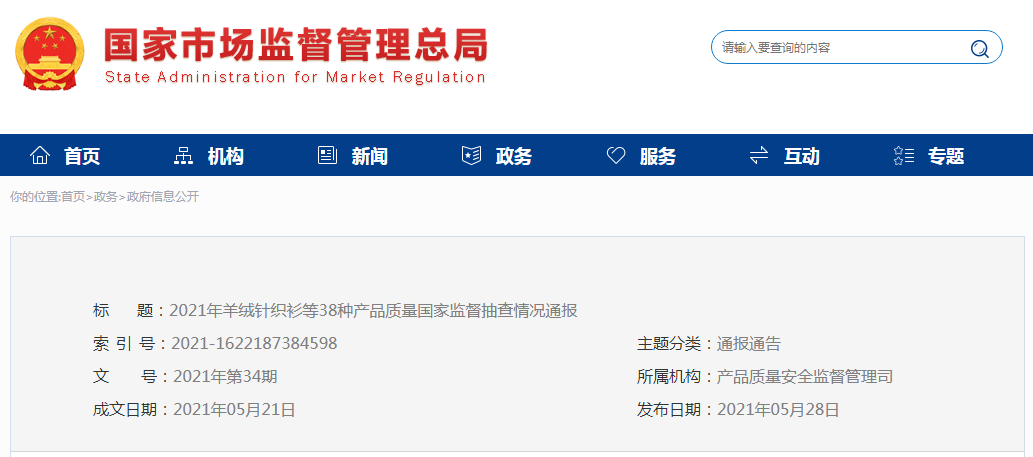 36 38
Item number: 606980909
Hardness of molded shoe heel
3
Shanghai Hui Electronic Commerce Co., Ltd. Kangqiao Branch
Zhejiang Global Shoes Industry Co., Ltd.
Zhejiang Province
Fashion casual children's shoes
210 (one and a half)
2019-9/Item Number: 28306
Abrasion resistance, phthalate
4
Pinghu City Yufei Clothing Store
Zhejiang Children's Library Children's Products Co., Ltd.
Children's snow boots
185 (1.5) 200 (1.5)
Item number: 6608666
5
Taicang Economic Development Zone Kara Bear Clothing Store
Wenling Huayi Shoe Industry Co., Ltd.
Women's Snow Boots
200 (30)
Style number: 04226301
Abrasion resistance
6
Lixiang Shoe Store, Wei Bin District, Xinxiang City
Jinjiang Toms Shoe Industry Co., Ltd.
Fujian Province
Fashionable leisure shoes
235 245
Item number: 1016222
Outlet wear resistance
7
Taicang Huarian Commercial Building Co., Ltd.
Guangzhou Zhuoyi Shoe Industry Co., Ltd.
Guangdong Province
Women's boots
230 235
October 24, 2019/Item Number: WF19098
8
Jinqing Leather Shoe Shop in Yushan District, Ma'anshan City
Guangzhou Hana Su Sutling Co., Ltd.
Women's shoes
245 (1.5)
December 2, 2019/Model: HD913680038
9
Kunshan Golden Eagle International Shopping Center Co., Ltd.
Shenzhen Baisen Shoe Industry Co., Ltd.
240 (1.5) 235 (1.5)
September 15, 2019/Item Number: FQQ9D802JK1DD9
Formaldehyde content
10
Wuhan Zhongbai Department Store Co., Ltd. Center Department Store Building
Guangzhou Zhanzhang Trading Co., Ltd.
Women's shoes (one and a half)
235
Model: 3300018
Suspected
snow boots
snow boots
snow boots
snow boots
snow boots
snow boots
snow boots
snow boots
snow boots
snow boots
snow boots
Qualified product
Qualified product
Qualified product
Qualified product
Qualified product
Qualified product
Qualified product
Qualified product
Qualified product
Shanghai Municipal Institute of Quality Supervision and Inspection Technology
Shanghai Municipal Institute of Quality Supervision and Inspection Technology
Shanghai Municipal Institute of Quality Supervision and Inspection Technology
Shanghai Municipal Institute of Quality Supervision and Inspection Technology
Shanghai Municipal Institute of Quality Supervision and Inspection Technology
Shanghai Municipal Institute of Quality Supervision and Inspection Technology
Shanghai Municipal Institute of Quality Supervision and Inspection Technology
Shanghai Municipal Institute of Quality Supervision and Inspection Technology
Shanghai Municipal Institute of Quality Supervision and Inspection Technology
Hardness of molded shoe heel
Hardness of molded shoe heel
Zhejiang Province
Zhejiang Province
Abrasion resistance, phthalate
Outlet wear resistance
Guangdong Province
Guangdong Province
Guangdong Province
Women's shoes
---