Leather shoes not only Oxford, good -looking leather shoes should be selected like this
In the movie "Ace: Agent: Agent College", Harry said when I chose leather shoes for Aigsey: Oxford Not Brogue. The meaning of the translation should be: Oxford, not Brock shoes. This is easy to give people a wrong impression on subjectively, thinking that Brock is not as good as Oxford. In fact, Ye Zi thinks that this is not comparable. Oxford is a kind of shoe type, while Brock refers to the carving style of shoes, and the two refer to different categories.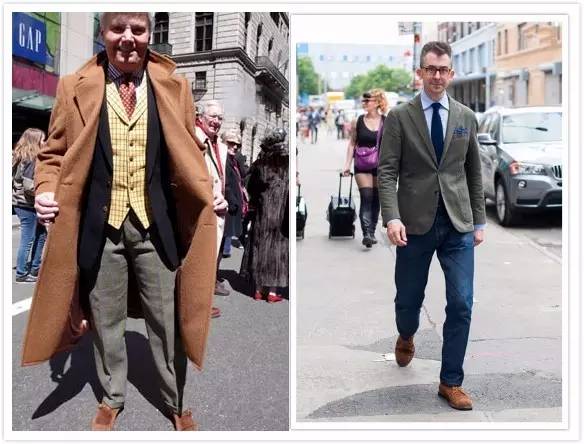 So today Ye Zi decided to make ax ax in front of you "old drivers" to talk about how to talk about
Choose a pair of good leather shoes that meet your own clothes and can hold the scene
Essence
# Oxford shoes and Brock shoes
Brock shoes are made up of multiple leather materials, and the edges of the stitching are sawnop, low heels, with hollowed holes -like decoration
These shoes can be called Brock shoes.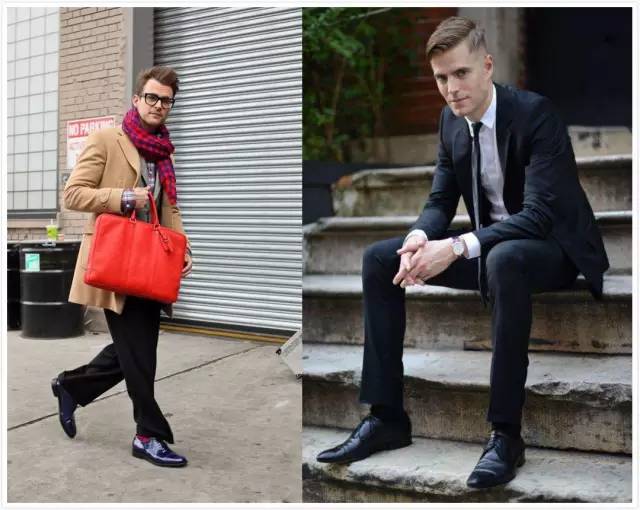 The real Oxford shoes are stitched by three smooth leather and become Closed Lacing closed shoe placket
The tail and upper of the shoe wing are linked, and it is still low -heeled and low -top, exposed ankle, so that it can be regarded as Oxford shoes.
Strictly speaking, there are two types of post -loaded strap leather shoes, Oxford shoes and Derby shoes. However, Oxford is not necessarily the most formal. For example, the three -connected Derby shoes are more formal than the Oxford shoes carved by Brock. Just like the two I mentioned above are not comparable, because Oxford shoes may also have Brock patterns.
Select to form a formal extent: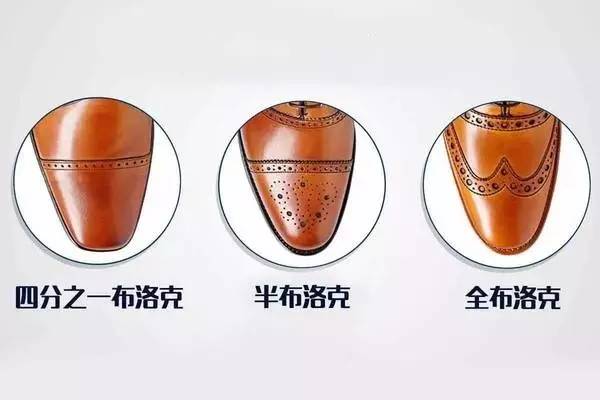 1. It is best to choose three -connected Oxford shoes or Derby shoes for formal business occasions.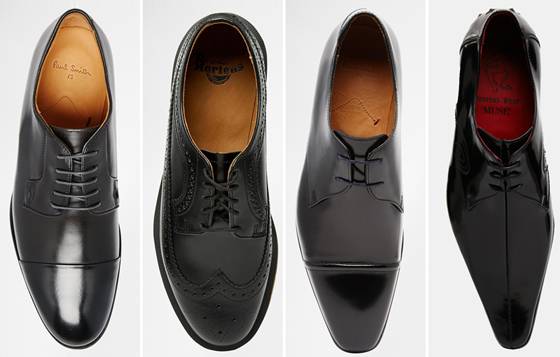 2. If you like Brock's pattern, you can choose the formal level of the occasion. The less the carving area of ​​the Brock pattern, the more formal.
However, it is not enough to choose leather shoes alone. You need to consider your clothing matching and whether the color of the leather shoes is harmonious with the color of the clothing. Essence
# 细 5 details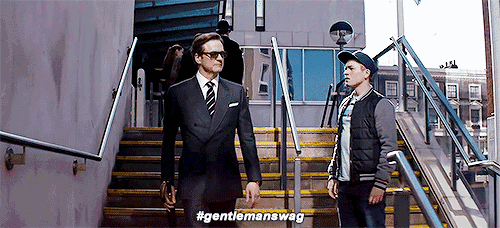 1.
Leather noodle
After polishing and polishing, the bright leather shoe and upper after the oil are fashionable and elegant, and it is also very formal, suitable for working occasions and business leisure clothes. If it is a super -shiny patent leather shoes, it will be better to match together in the dance or wine club. Misty skins are mostly used for loafers, and the leisure index is very high.
↓ From left to right: bright leather, patent leather, foggy skin, suede, long -lasting leather
2.
color
The same is true in leather shoes. Black is the most secure representative of controversy. The brown is not dull, so he will have more ingredients in his own clothes and leisure. The dark blue represents wise and restrained, but it is not very suitable for too formal occasions, and the brightest colors, such as red and yellow, are more high -profile and crazy, and are also not suitable for formal occasions.
3..
Shoe body
The slender shoe body is usually paired with a narrow width, giving a sense of capable, elegant and savvy. The short -wide shoe body usually gives people a stable and quaint feeling. However, because of its own structural problems, it is difficult to make people feel that its shoe body is slender, but it just feels that it is small. Therefore, when choosing a business casual dress, it is best to choose dark colors such as black.
It is worth mentioning that,
Some people choose to choose one or two size in leather shoes, but the premise is that your shoes are narrow itself, otherwise it will give people a kind of foot.
4. 4..

Tadpole
The head originally refers to shoe -making tools, and now we have blurred concepts to describe the toe. The pointed leather shoes we are talking about means that his head is sharp. Polarized leather shoes, tall figures will set off well, otherwise it will look fancy, while the small square head is low -key and stable, more attractive choices in formal occasions, elliptical scalp shoes are suitable for most occasions, and while most occasions, and most occasions, and most occasions, and most occasions, and most occasions, they are suitable for most occasions, and they are suitable for most occasions, and they are suitable for most occasions. Round -scalp shoes can be worn at work or leisure and entertainment.
↓ From left to right: oval head, round head, small square head, pointed
5.
Sole
Hard sole and high -heeled soles are more suitable for formal occasions than low -heeled leather shoes.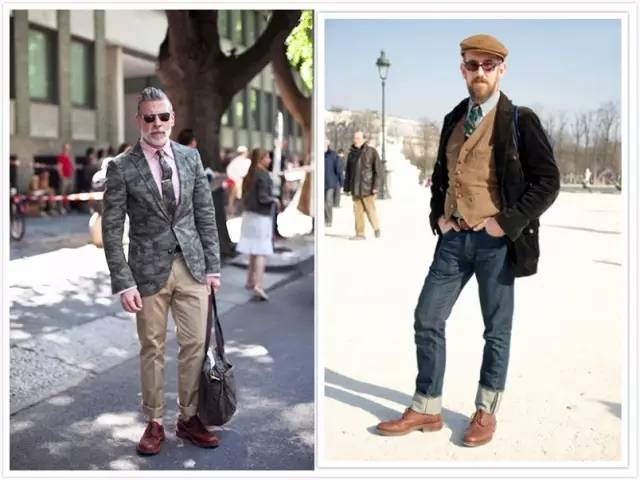 The following is recommended for everyone
5 Common combinations in common in
1. Bright skin+long shoe body+oval head+hard bottom high heel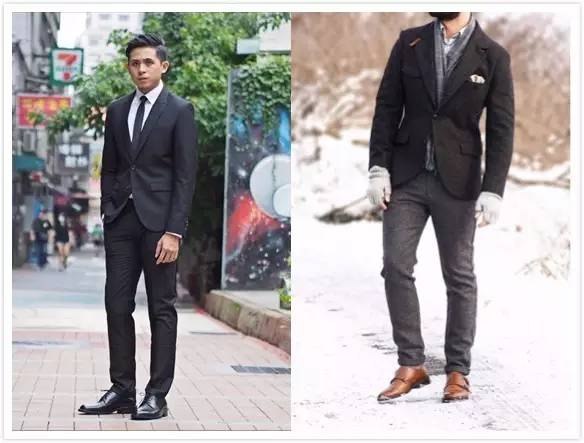 Such a combination is suitable for mature atmosphere, but does not want to lose fashionable men, whether it is matched with a full -black formal business suit, or a casual suit or a variety of long and short coats. It can be said that this combination is relatively safe and versatile, which can meet your clothing most of the time, without affecting or conflict on the style.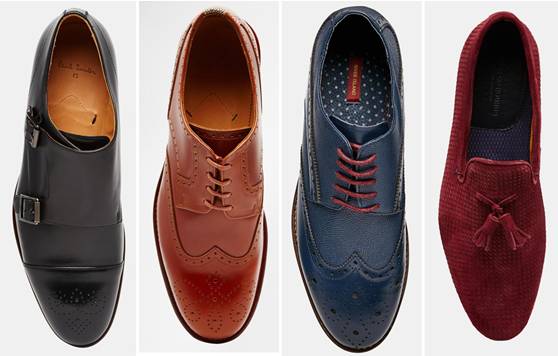 2. Brown suede+long shoe body+oval head+hard shoe soles
The retro of suede and brown is strong, but Ye Zi feels that such a combination is more suitable for outdoor leisure and entertainment activities, or business trips to wear, so you can wear it as an old gentleman, a woolen coat or coarse hairy hairy. You are indispensable for the suit. You can echoed suede shoes well. Of course, there are knots and khaki pants.
3. Bright skin+long shoe body+pointed/small square head+hard shoe sole
It is most suitable for tall and long -range shoes. Against the background of business suits or coats, you look more elegant and tall and masculine. If it is a formal occasion, a slim suit and a pair of bright -and -long leather shoes can make you more charming and charming.
4. Misty skin+long shoe body+round head/small square head+soft bottom
In fact, this usually refers to loafers. The biggest is that the biggest is its relaxation and casualness, not just a casual suit, but also a variety of casual clothes. Compared to other leather noodles, the fog -surface Lefu shoes can make you full of affinity, Sven and gentleman.
5. Misty skin+short wide shoe body+round head/small square head+hard bottom
The short round head or small square -headed leather shoes are relatively suitable for leisure look. Whether it is a waist suit or coarse sweater, it is very suitable, exquisite and stylish, and add a warm atmosphere.
# in conclusion:
The leaves are only part of them. In fact, many formal leather shoes can also mix out of outdoor leisure, but in formal business occasions, they still have honestly choose formal dressing leather shoes that meet the standard. at last,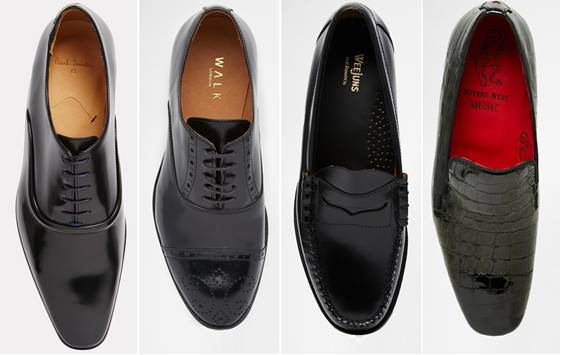 No matter what kind of leather shoes you choose, you must use your own style, overall matching, and often involved.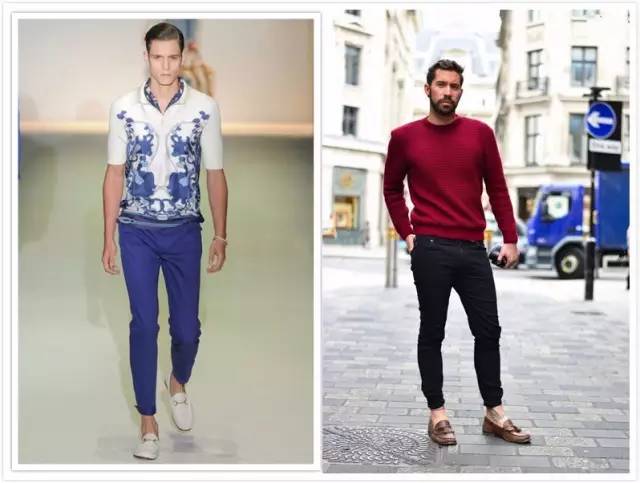 Official website: www.topmen.com.cn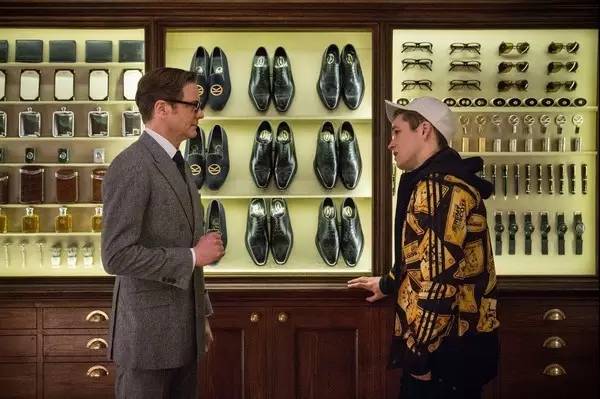 Promoting contact WeChat: Topfashion02, QQ: 2213715575
Essence
Essence
Essence
---