Kodak launched the new VR sports camera to seize the Go Pro market?
【PConline Information】
After the bankruptcy, Kodak has made great adjustments to its business. The fields that have not been involved in are now related products. In recent years, virtual reality has developed rapidly. Kodak has naturally hugged the thighs of the times. Unlike the previous period of the digital camera era, he also read his film technology. It launched its VR camera a year ago: PixPro SP360. Recently, Kodak launched the upgraded version of PixPro SP360 4K, and this new product can really be regarded as a VR camera, which can achieve a complete sphere of 360 degrees.
Pixpro SP360 4K
The first VR sports camera PixPro SP360 released by Kodak was not too bad to configure at that time, but now it seems that less than 4K resolution and unable to perform complete 360 ​​-degree shooting have made it more difficult for this product to stand in the market. The Kodak PixPro SP360 4K fills these deficiencies. In terms of resolution, the resolution of this new product has reached 4K, which greatly improves the quality of shooting videos. Pixpro SP360 4K can be pasted together, so that it can shoot 360 -degree videos or photos.
As mentioned earlier, this product is a VR sports camera, which means that this product will support three-proof function. SP360 4K supports IPX5 living waterproof, JIS6 dustproof, 2 meters of earthquake prevention, minimum working temperature -10 ℃. If If you need diving, you need to buy an additional accessories. Supports panoramic videos with resolution such as 4K 30FPS, 1080P 60FPS, 720P 120FPS, etc., with electronic image stabilization function. Support to connect to mobile phones through WiFi, and supports up to 128GB Micro SD/Micro SDHC/Micro SDXC card, the battery capacity is 1250 mAh.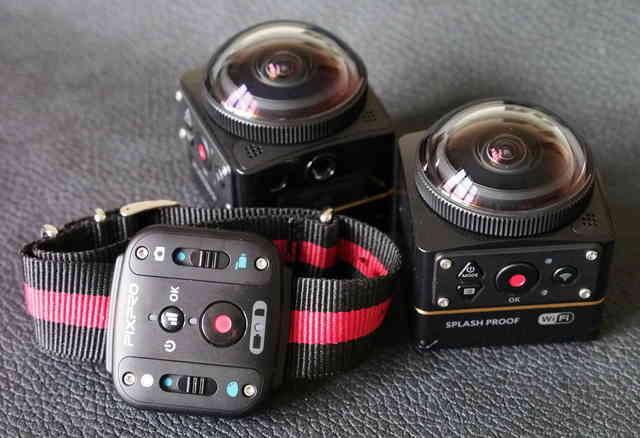 Compared to Go Pro Omni, Kodak's product is more convenient. Although professionalism will not be so good, as a sports camera, SP360 4K will be more suitable, and the price of Go Pro Omni ), And the price of SP360 4K dual lens is only 750 pounds (6424 yuan).
---