Tencent reading pocket reading colorful color collection: 130 grams, ink screen, also support 4G Netcom
Speaking of the electric paper book, many people can first think of the type of 6 inch or even 10 inches of similar tablets, the size is very large, the portability is not good, so this kind of product is also known as a fruity. The artifact of the face, is it not found to put a moving paper book that can put it into a pocket? Fortunately, Tencent took the problem, launched Tencent reading pocket reading (hereinafter referred to as pocket reading), it still uses the electric paper screen technology, but the volume is smaller than the iPhone11, and has also joined the functions of smartphones. What is the actual experience? Let's take a simple review.
Open box: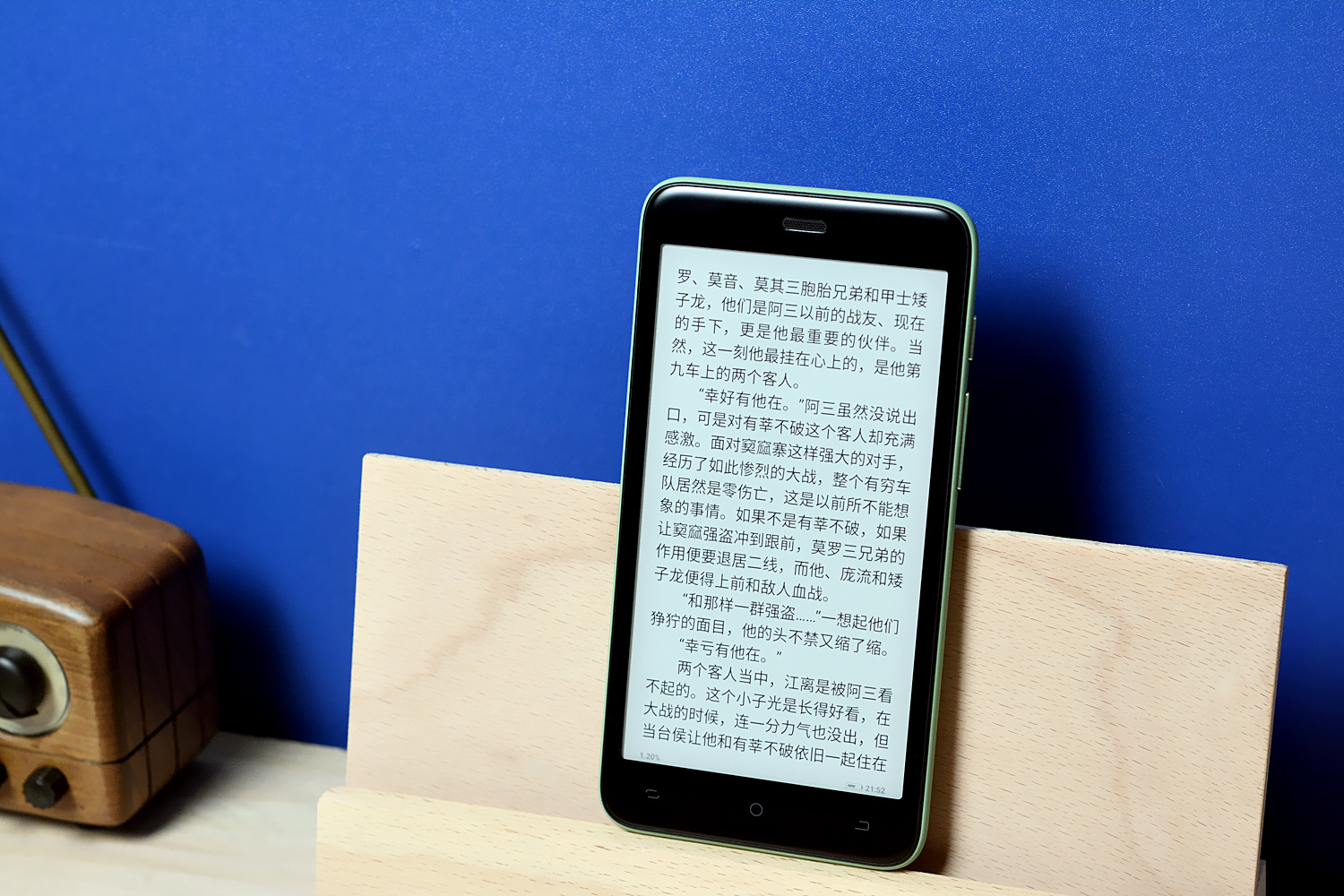 The edition of this pocket reading in my hand is a bright color, first to open the box, the family blessing, in addition to the pocket reading, including the instruction manual, charging line and a thimble.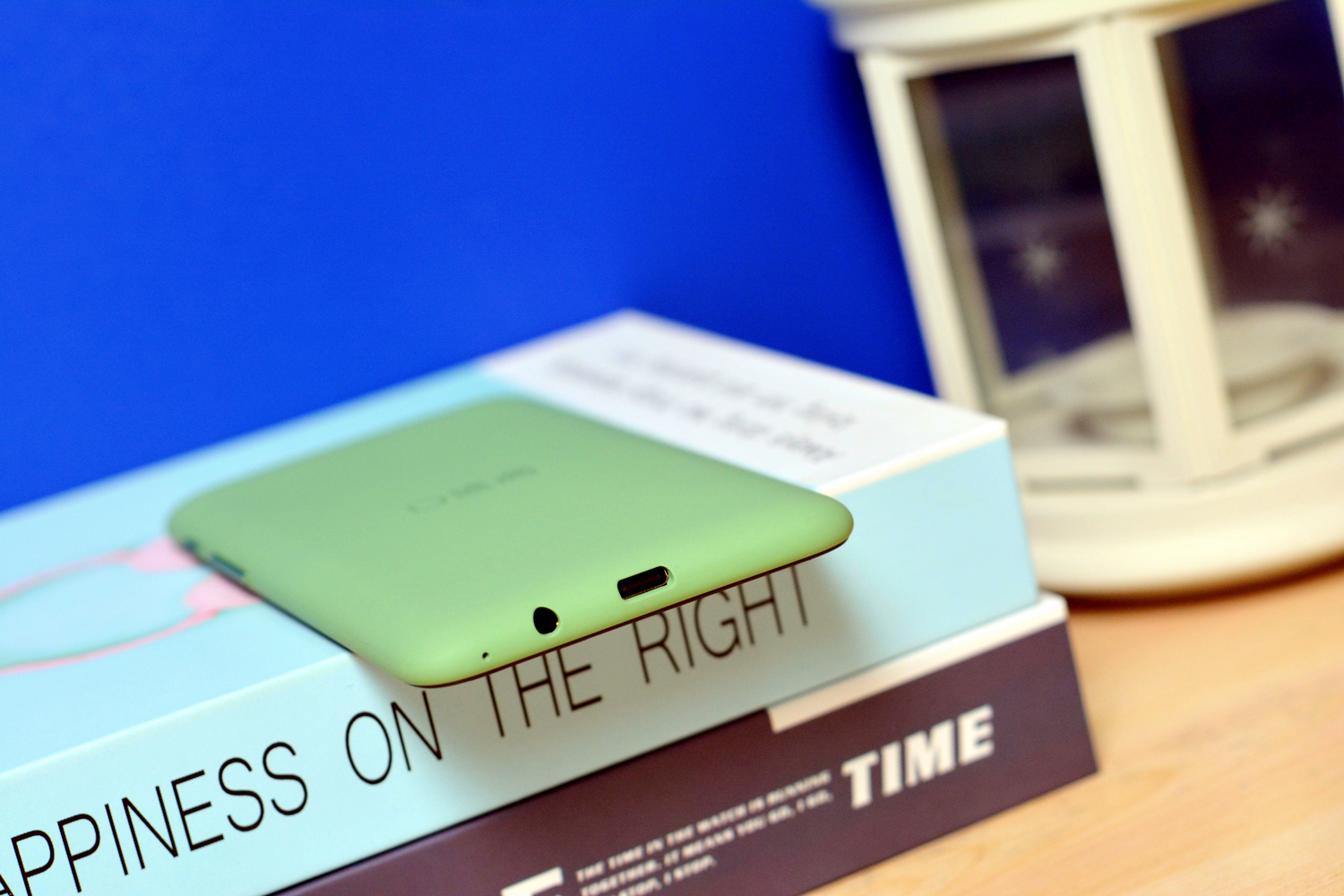 From the appearance, the pocket reading is like a traditional Android phone. It is equipped with a 5.2-inch electrical paper book ink screen, because thanks to the characteristics of the ink screen, in the shutdown state, its screen can still display long-term display .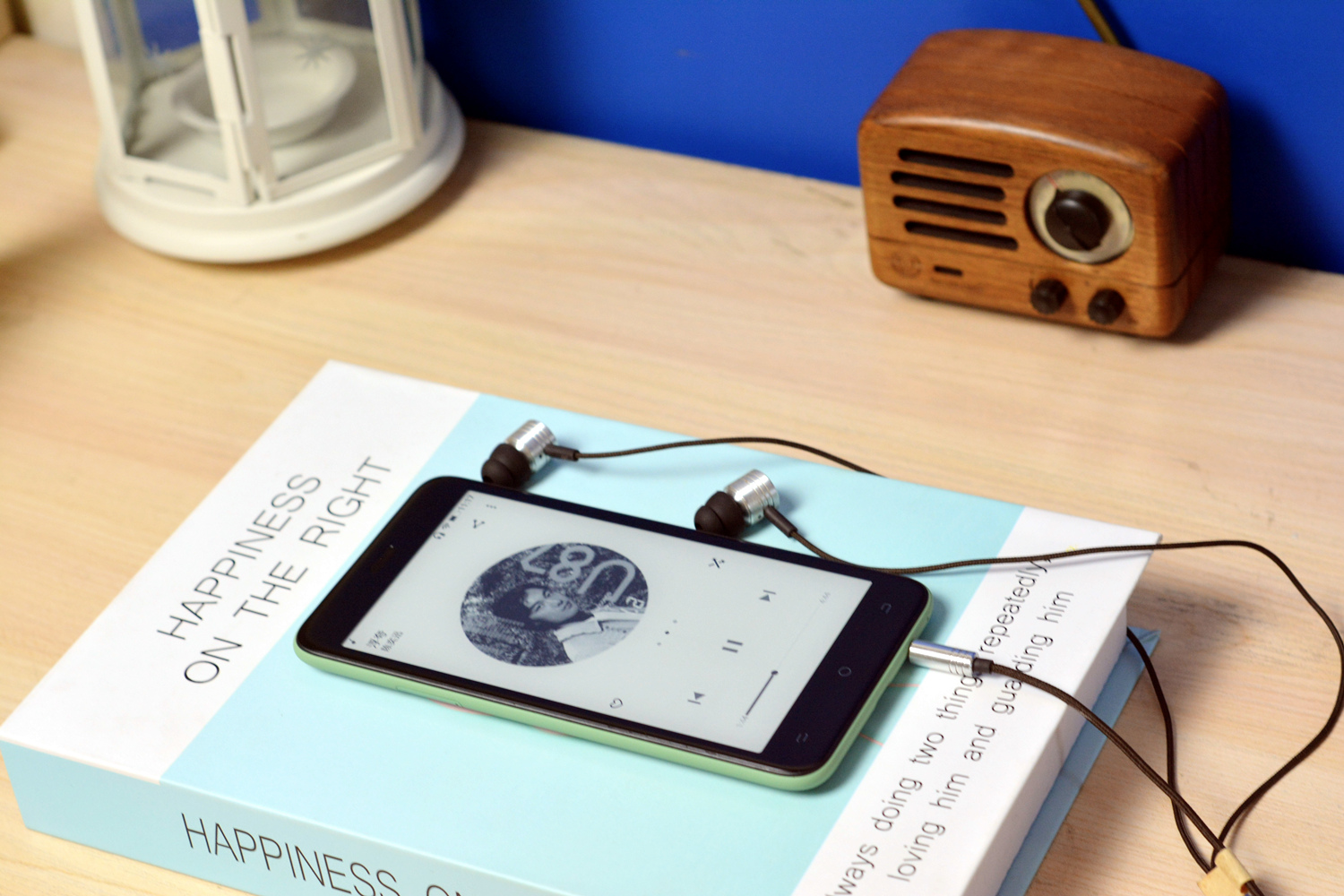 There is a handset above the screen.
The bottom of the screen can be seen on the Android phone on the Android phone, but in the pocket reading, its function is still different, from left to right, the application / read switch button, home button, and return key.
Pocket reading, colorful, has fun, quiet, quiet, and ink, black, three types of color, the surface of the body is a skin material, not only touching, but also not easy to contaminate the fingerprint. In addition, it is worth mentioning that the pocket reading is more lightweight than our usual mobile phone, then I tested it with the electronic scale, only 130 grams, then match the round fuselage, the feeling of the grip is obviously better than I usually use the phone better.
Like most smartphones, the side positions on the right side of the screen are designed with power button and volume key, because the pocket readers are reading, so they can be used as a page button in the process of reading.
On the other side, it is designed with a card slot, in addition to supporting 4G All Netcom, also supports the SD card in-memory expansion function, but it is necessary to explain that between the SIM card and the SD card can only be two choices, in the pocket The memory is 2GB + 16GB solution, 16GB is still sufficient for most people, but if you want to have more memory, store more content, then you need to abandon the function of calling, how to choose, You can decide yourself.
At the bottom of the fuselage, the 3.5mm headphone interface and Type-C charging port. Today's Android smartphones are basically used by Type-C interface, so they can basically be shared when charging, in terms of battery life, pocket reading Built-in 2000 mA battery battery, can stand up to 7 days in smartphone mode, and if you turn off the pure reading mode of communication function, you can continue to stand by 20 days, and the battery life is significantly more than smartphones.
In general, pocket reading and traditional smartphones have nothing to distinguish, but the screen is more suitable for reading ink screen, compared with my iPhone11, its volume is smaller, weight is lighter, so in portability There is basically no comparability in sex.
system interface:
In terms of system, the pocket reading is divided into the application interface and reading interface. It can be switched through the button in the lower left corner. In fact, it is simple to be simple. In the application interface, the traditional Android phone interface is basically, but only the clock on the upper position Get your reading time.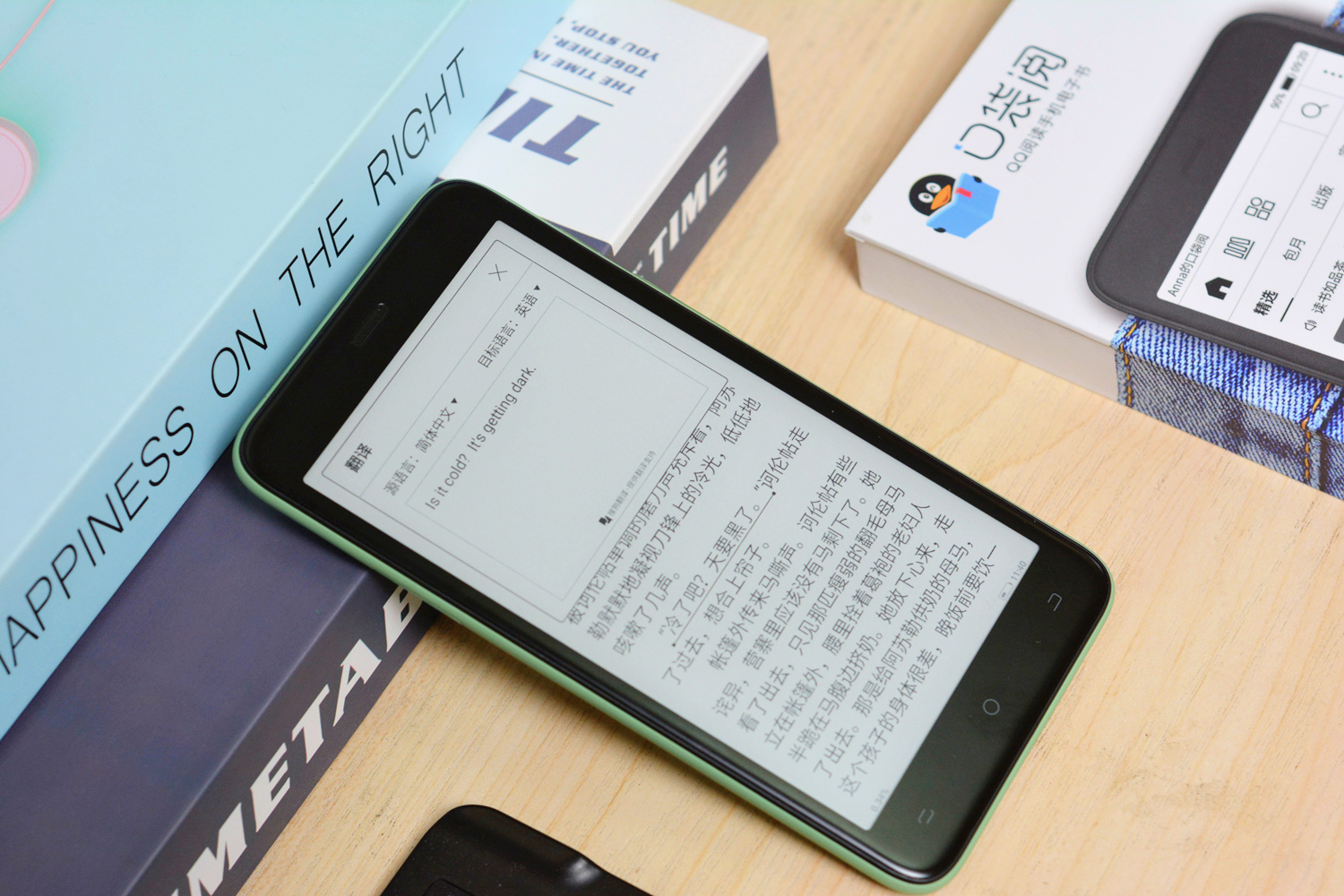 In addition, the other reading interface is actually the bookshelf interface reading of QQ. After booting, you bring six books, then you join more books you like.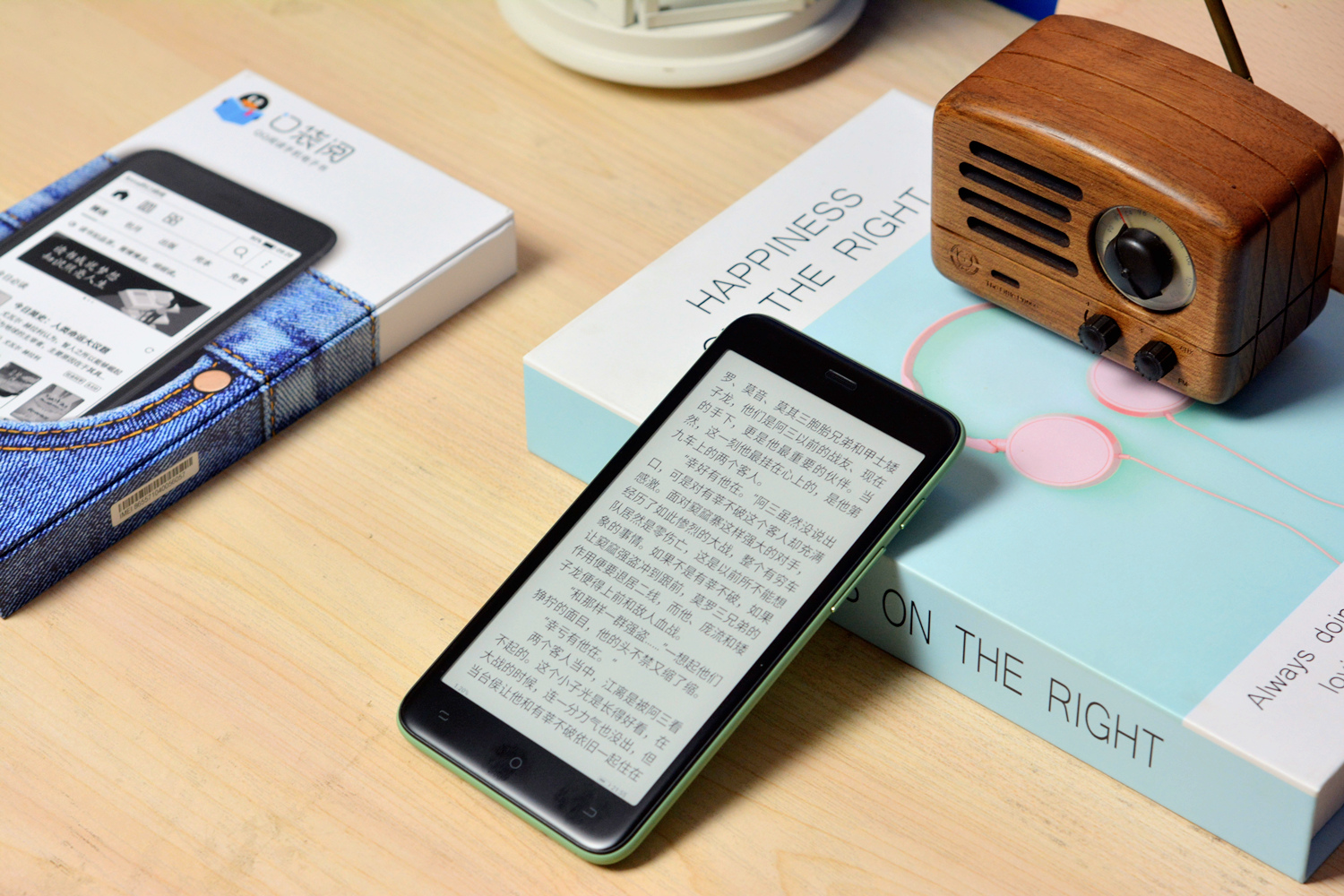 Like a smartphone, the drop-down screen on the top of the phone can call the shortcut, here, in addition to the shortcut operation such as brightness adjustment, Bluetooth WiFi traffic, and the switching of the display mode and screen full brush function.
It will also be said that although pocket reading does not support custom installation of third-party applications, but through its built-in application mall, you can download and install some practical software.
function display: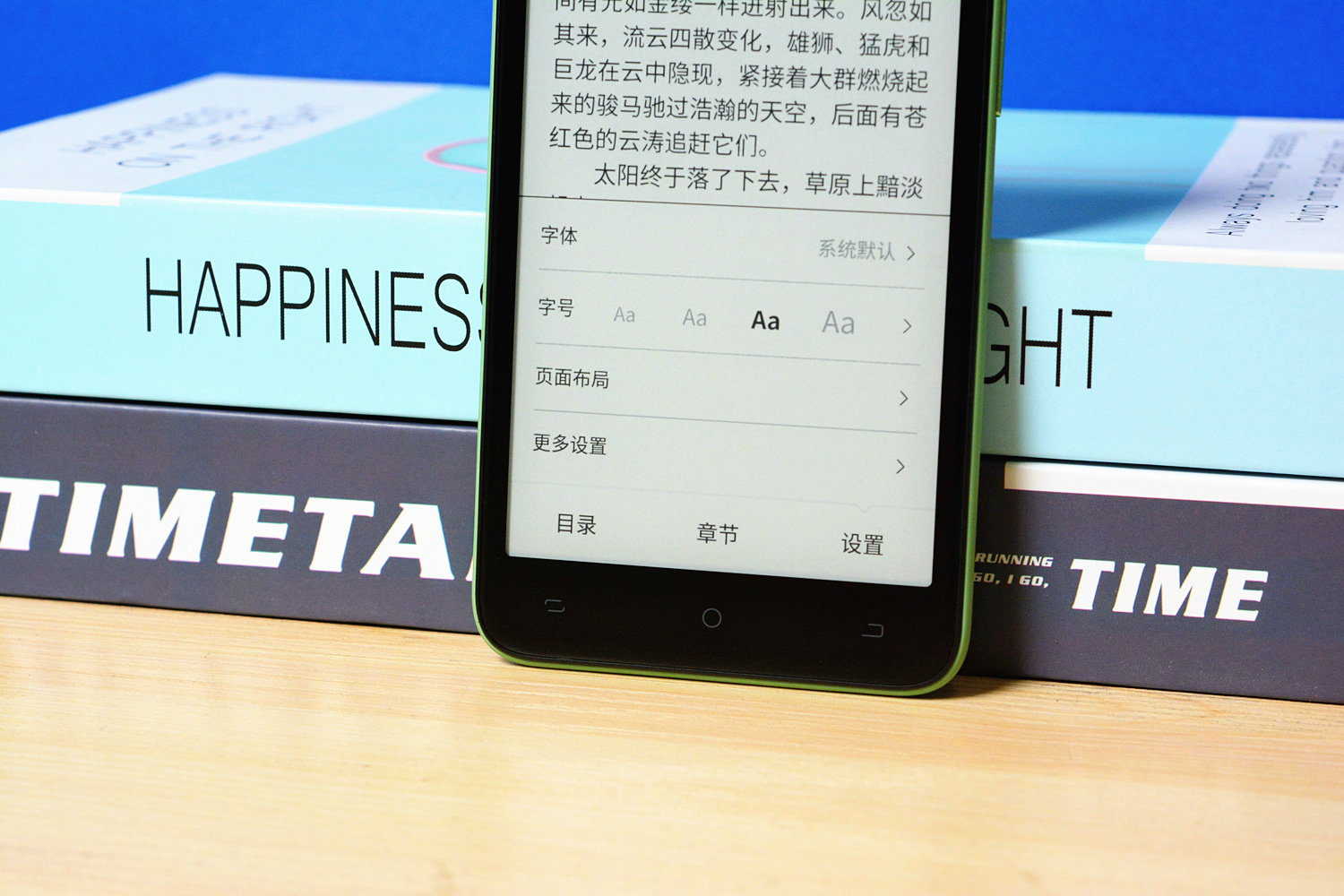 For reading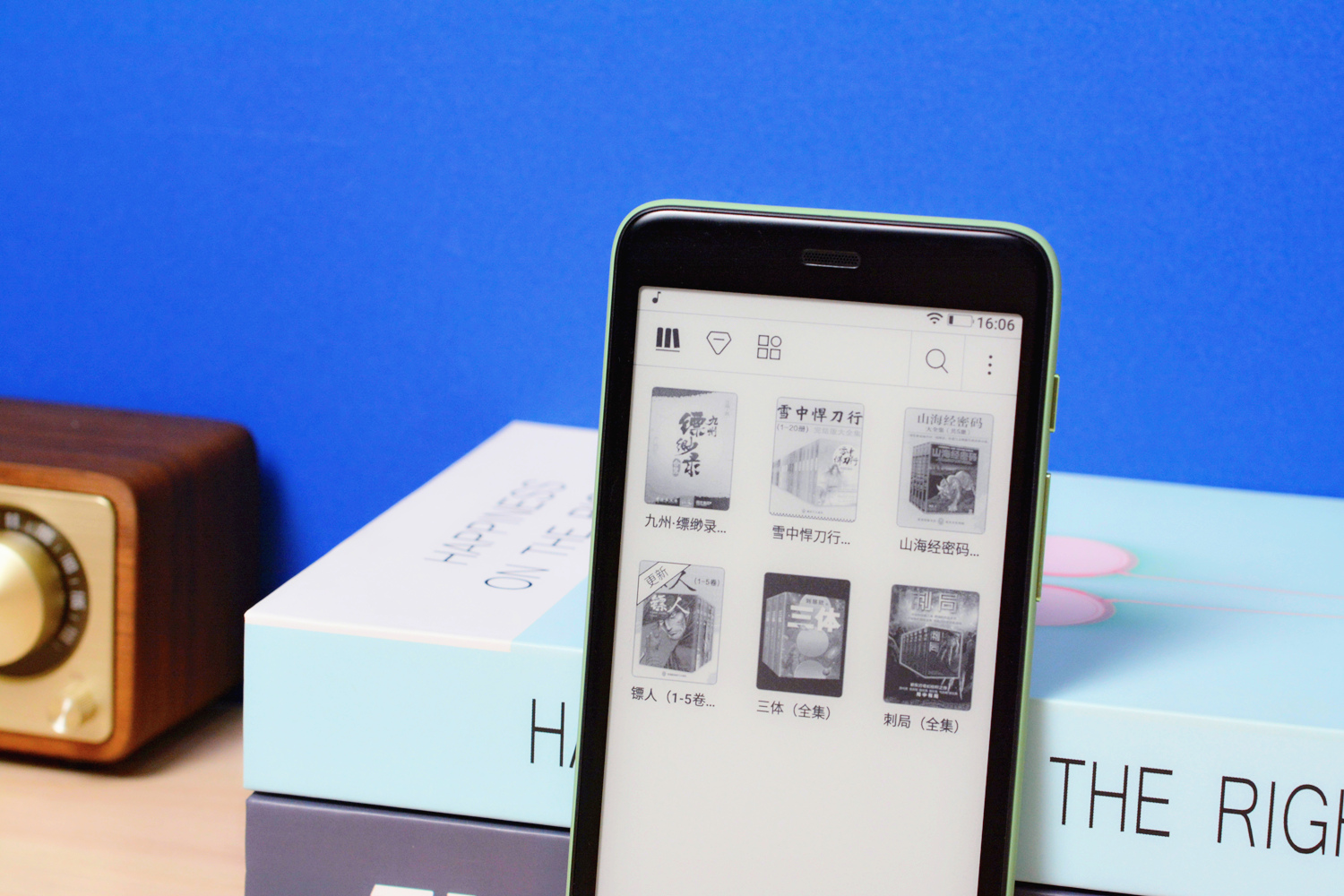 The meaning of pocket reading is actually read. It is also read. It is equipped with a 5.2-inch silica screen. This screen does not shine, nor does it produce blue light, the stronger the light, and its display will be clearer, so in the process of reading Basically, the effect of paper books can be achieved. In addition, this ink screen will only consume electricity in the case of turning, so it also has longer battery life, which can be said directly that this screen is to read.
Pocket reading, QQ reading, WeChat reading, Kindle and other reading apps, and direct link to Tencent Reading Group's book repository, including more than 10 million content reserves, more than 200 content types, 7 million sign writers, etc. Wait, you can say that reading resources is very rich. Of course, this also includes a lot of toll books. If you can't accept the genuine books for these charges, you can also download it online, then transfer through Bluetooth or USB, but I It is not recommended to do so. On the one hand, this is not conducive to the entire book ecology. On the other hand, there will be no large number of typical words. In the abilities, choose the genuine better, what do you say?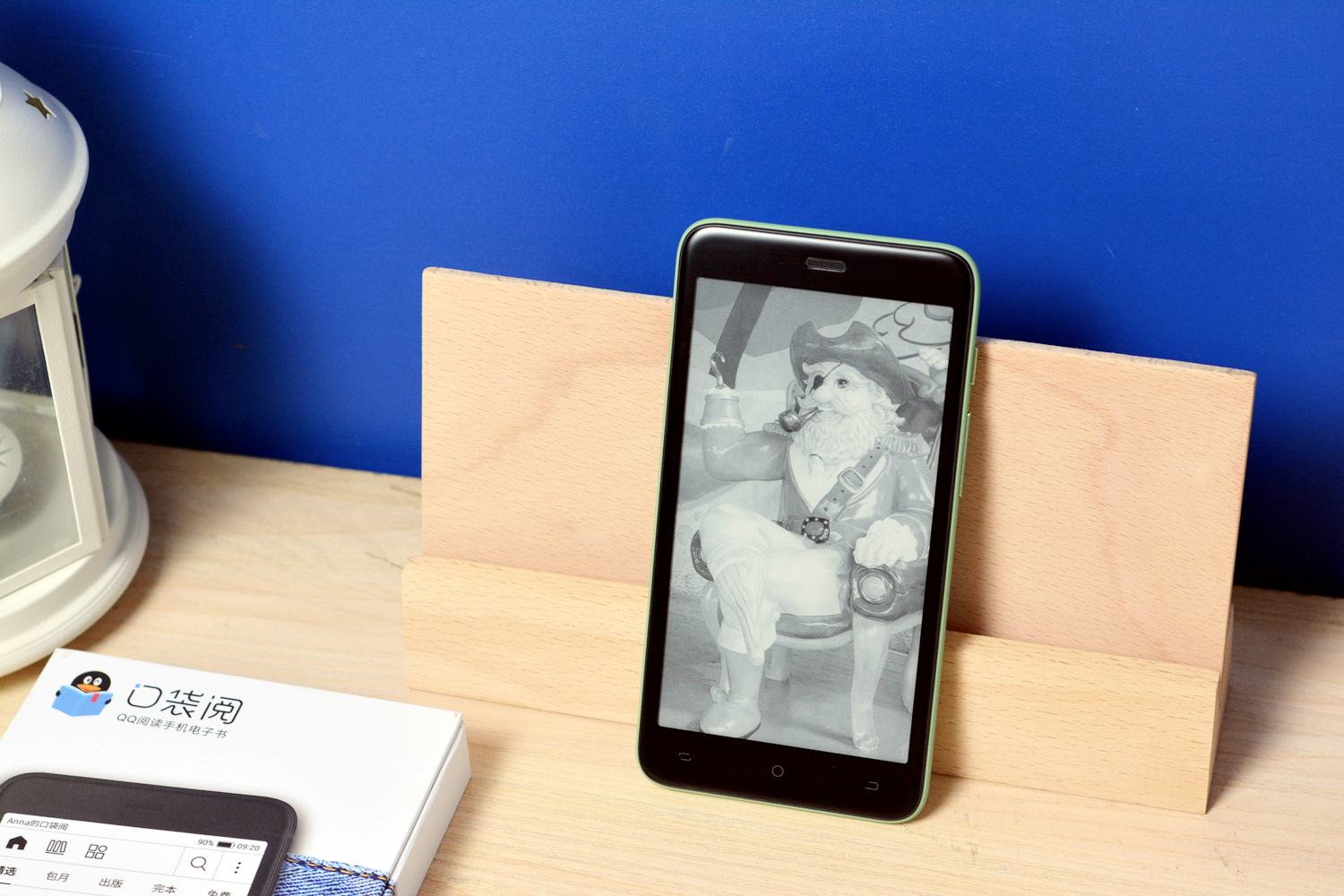 The picture below is the reading interface of the book. It seems that it is not very different from ordinary paper books. Even if you read the book for a long time, there will be a long time to watch the mobile phone watching TV. Paper books can be used to store thousands of e-books. If you change to normal paper books, the weight of books and storage of books may be difficult to bear.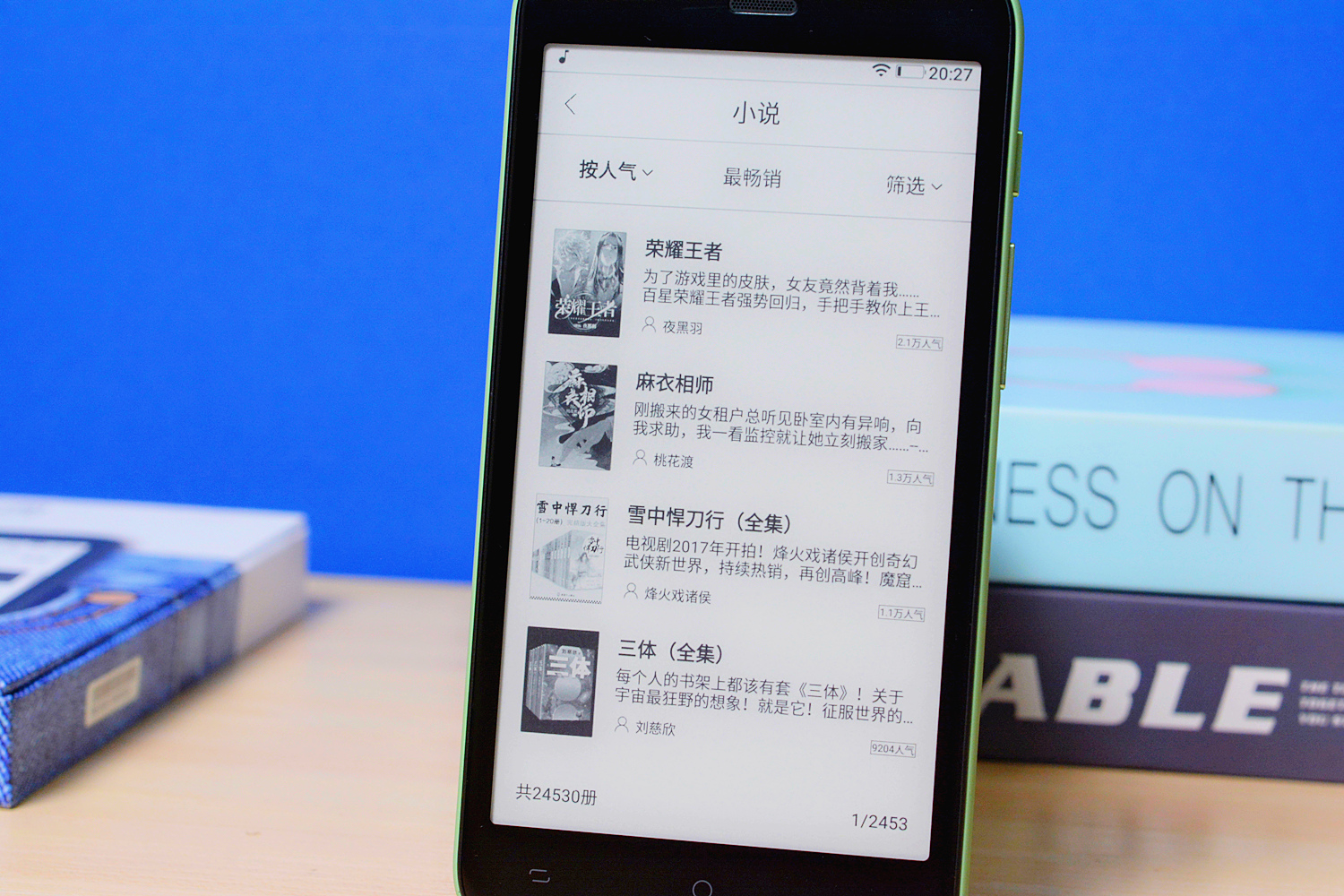 During reading, you can also set fonts, font numbers, page layouts, and more.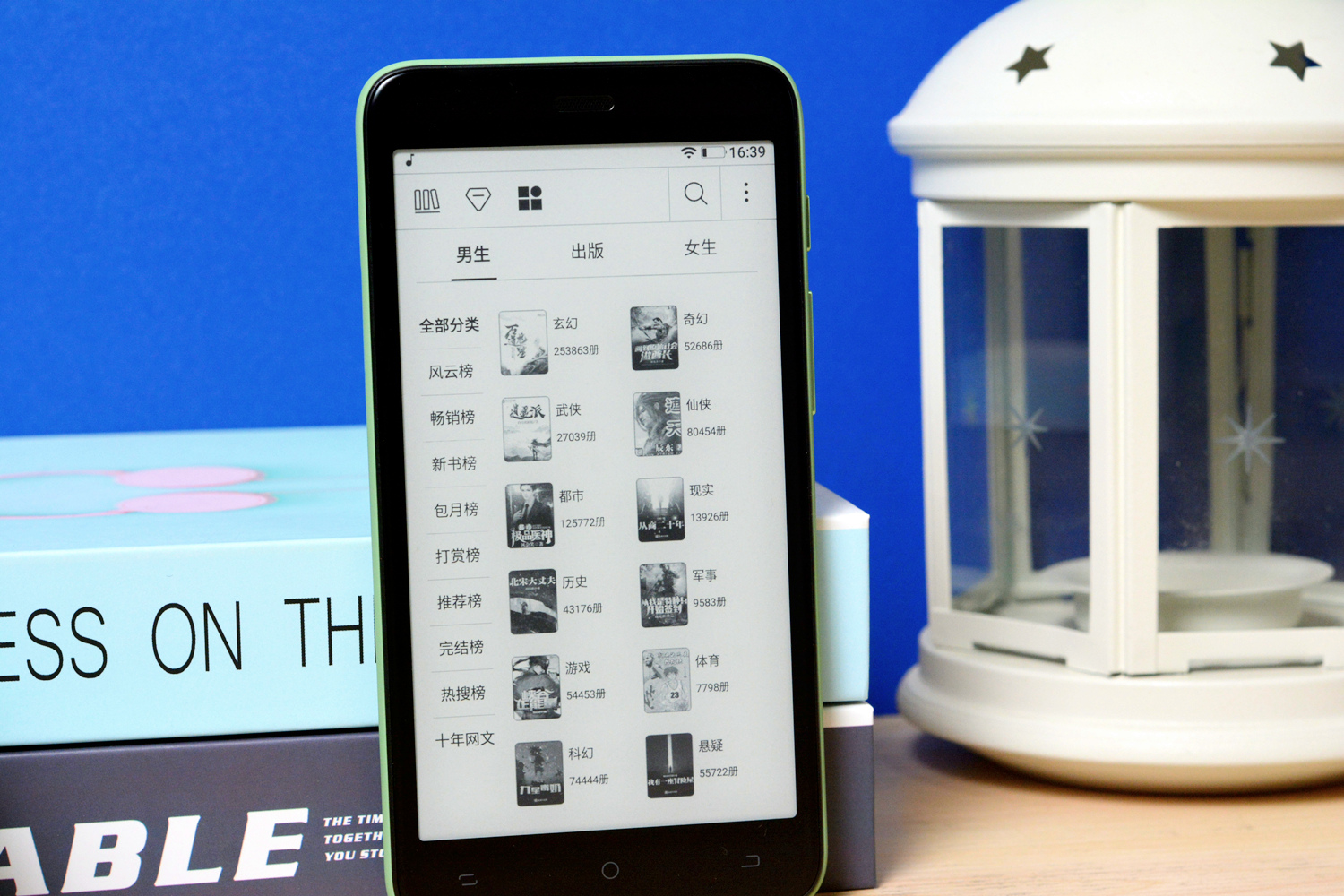 In addition, you can scribble, share, copy, record your notes during reading, or even translate.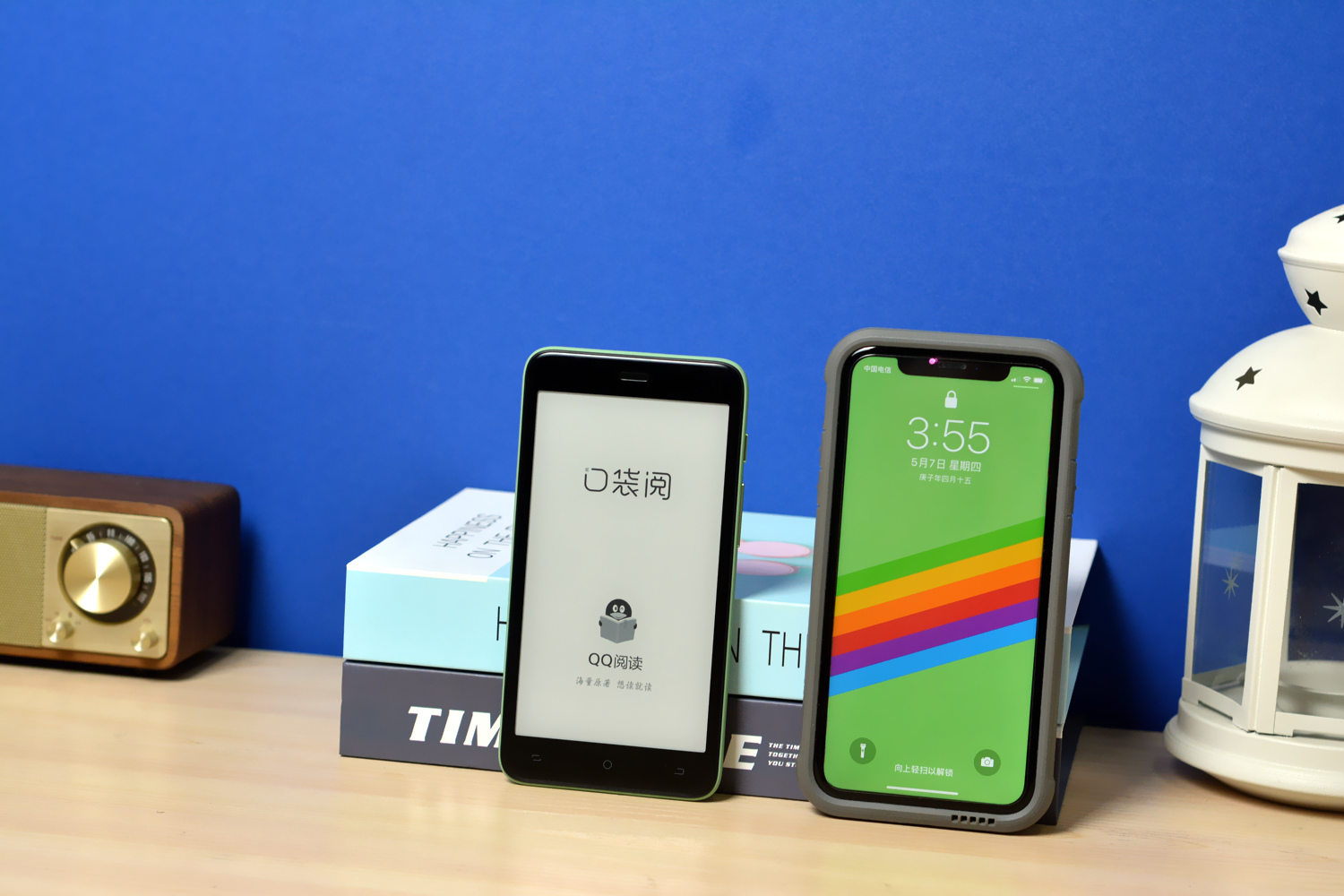 In the note function, some people may worry about the text input will not be too slow. In fact, the pocket reading also takes into account, directly joining the AI ​​intelligent voice input function. By pressing and holding, you can directly transcribe directly into text, after testing me It is found that this feature is also very easy to use, record the notes in this way, basically solve the problem of text input.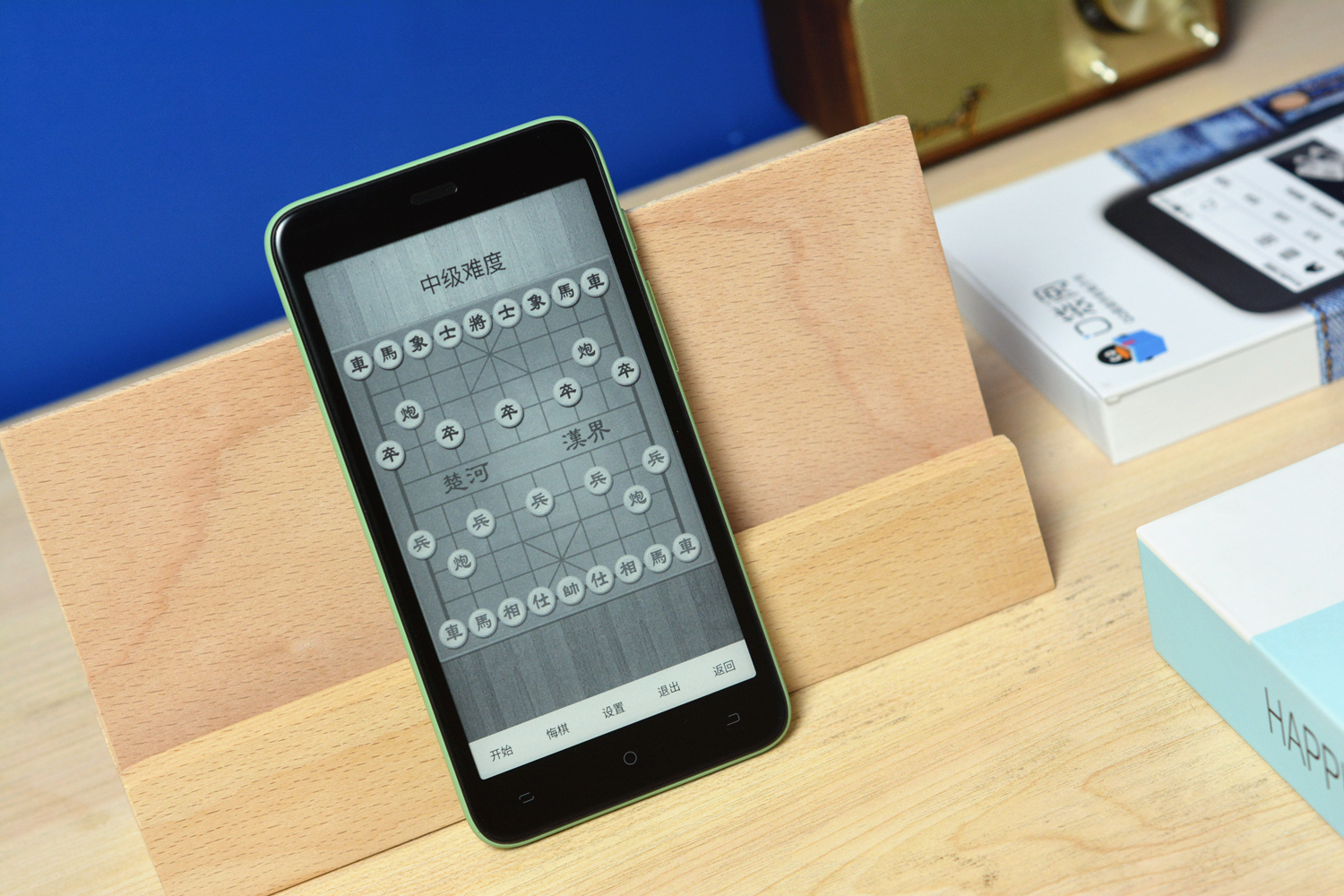 With this translation function, can you learn English?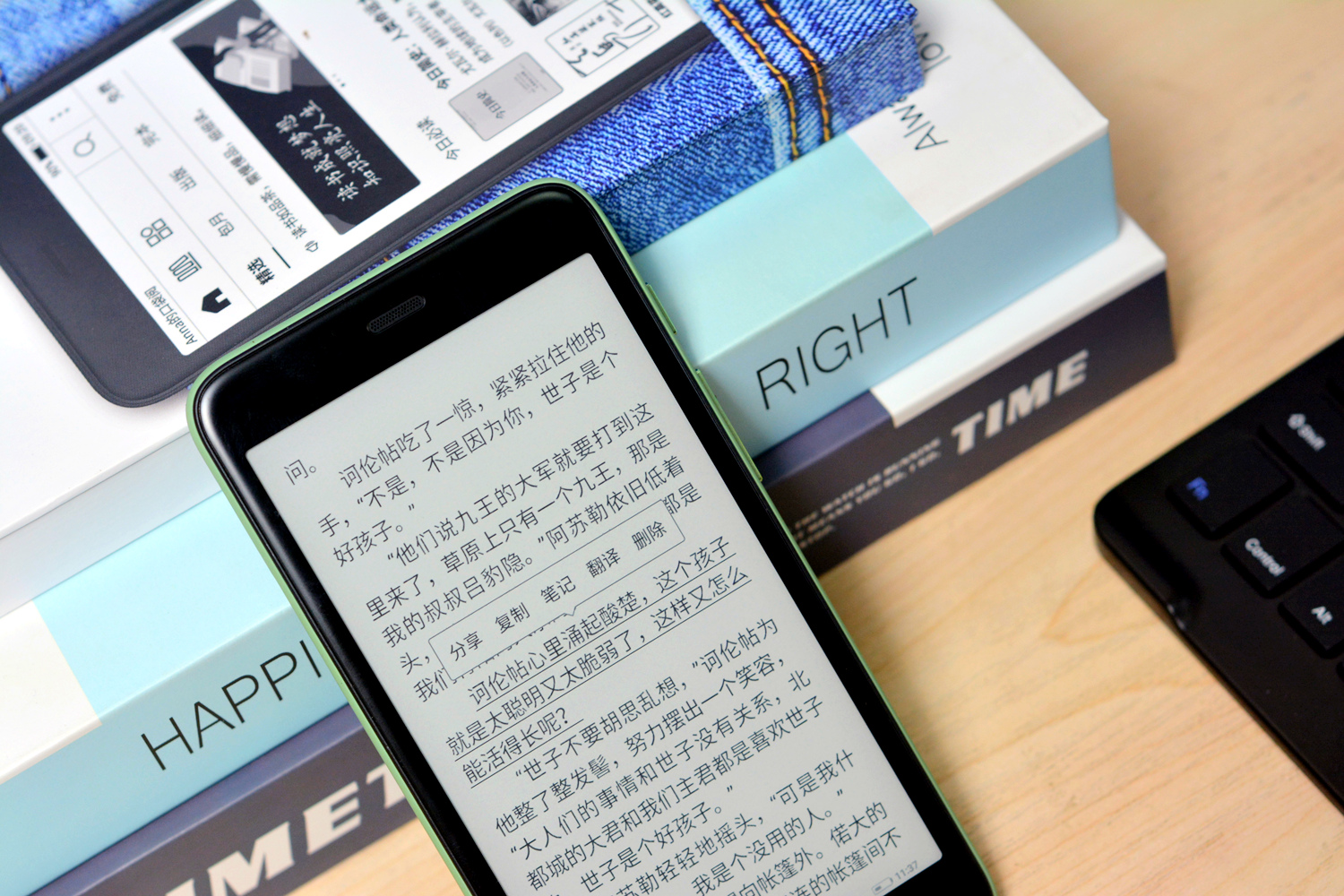 Pocket reading also supports 36-level reconciliation reading lights, after opening reading, you can also read books in the nest.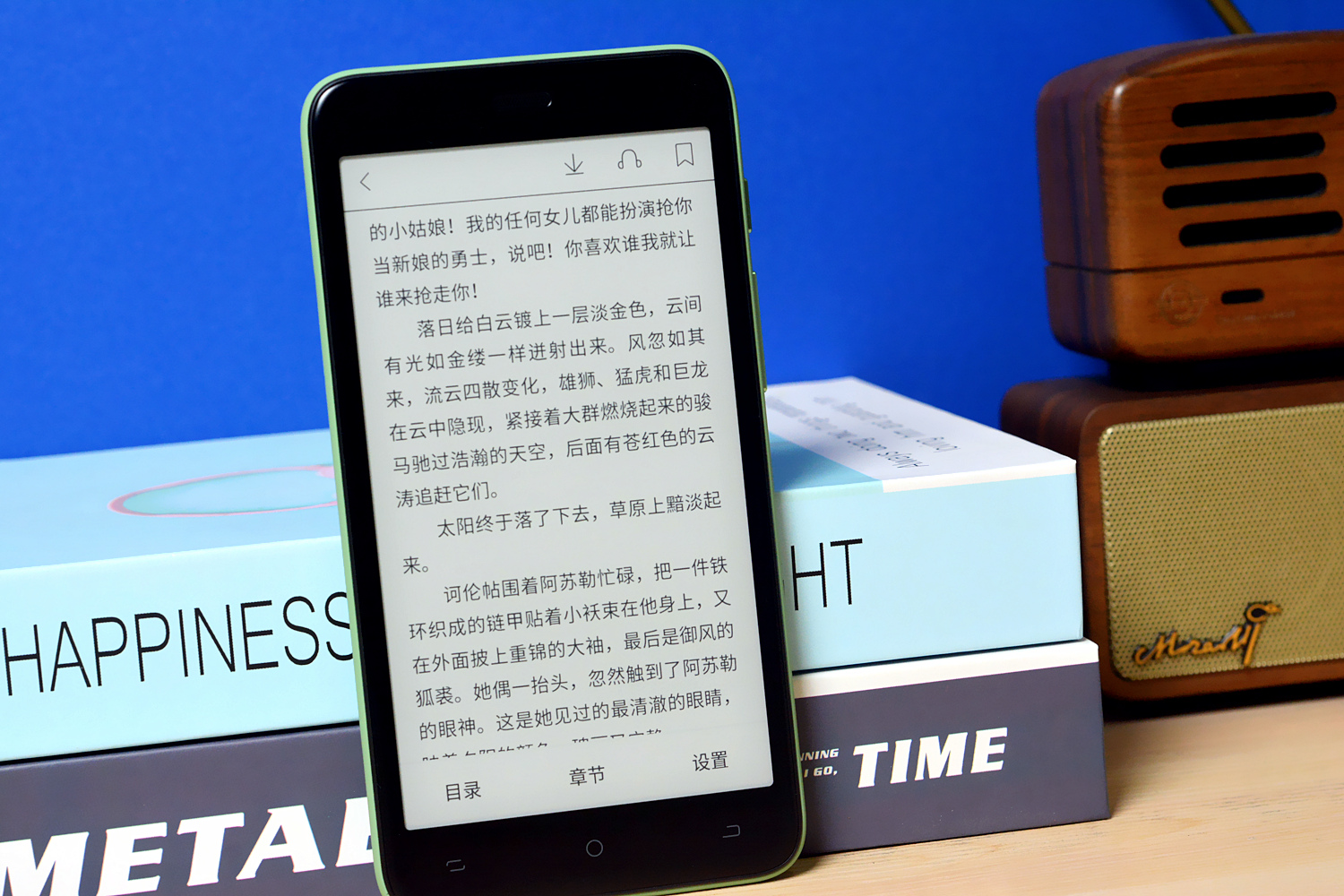 In addition, if you feel that reading is too tired, pocket reading also supports the AI ​​smart person's sound read function, in addition to adjusting the setting of sweet female voice and emotional male, can adjust the speed and timing function, usually when I am sleeping, I usually Open this feature, accompany reading, slowly fall asleep.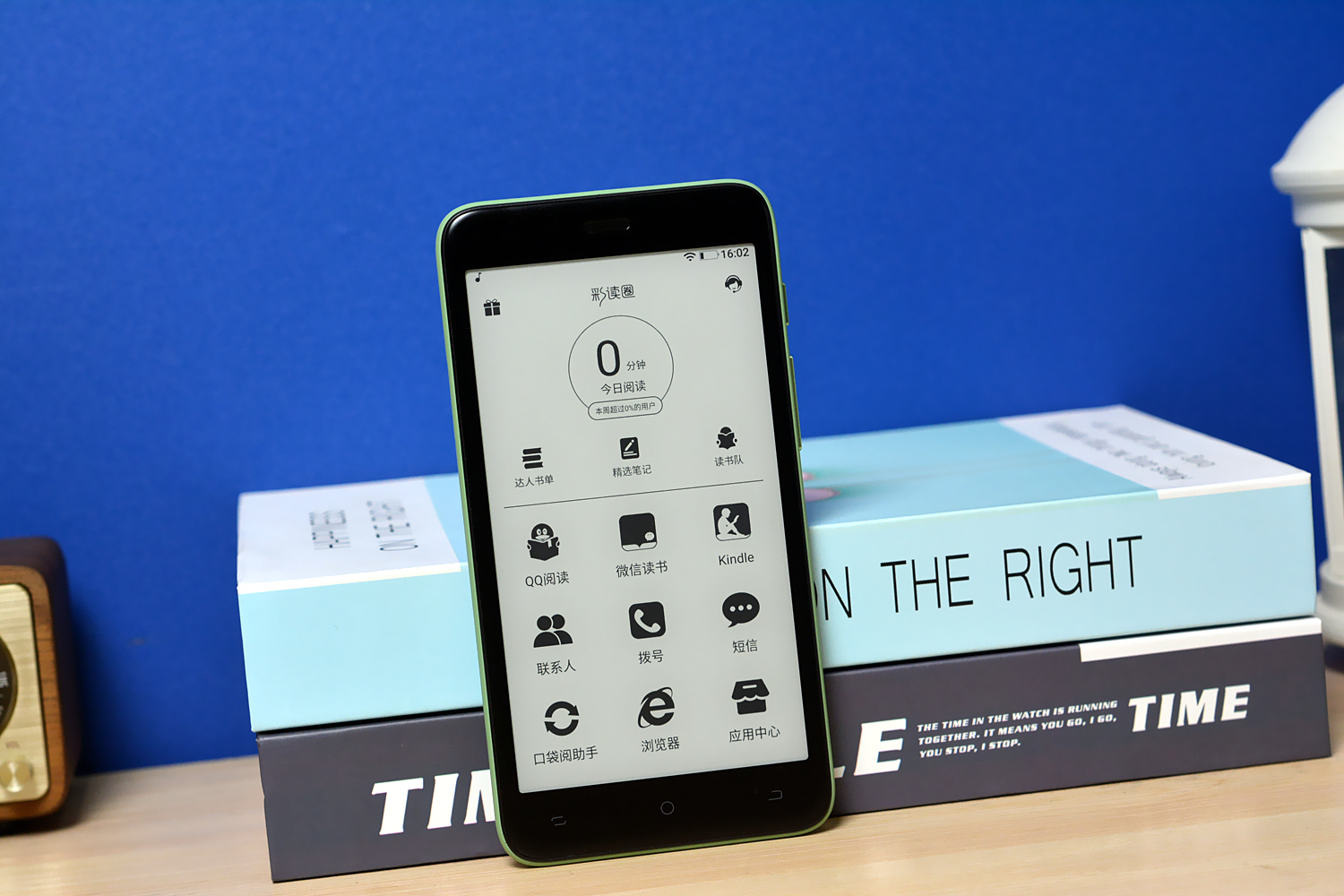 Call function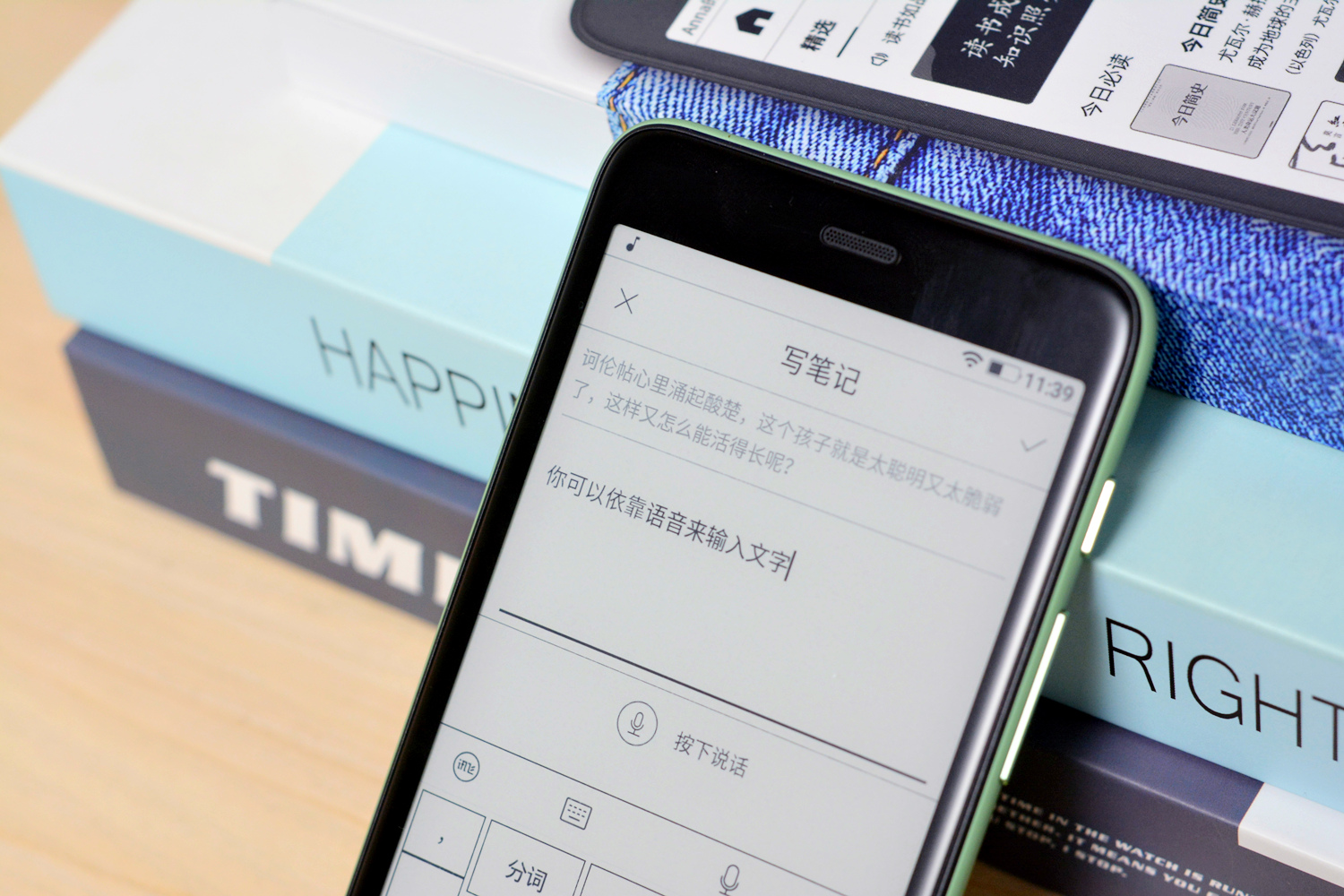 The pocket reading is also a 4G all Netcom mobile phone, making a call or sending a text message, although this ink screen is displayed very slow, but when you click Dial, no matter how fast you can press, it can be all entered. So don't wait for you to wait, the entire operating experience is still enough.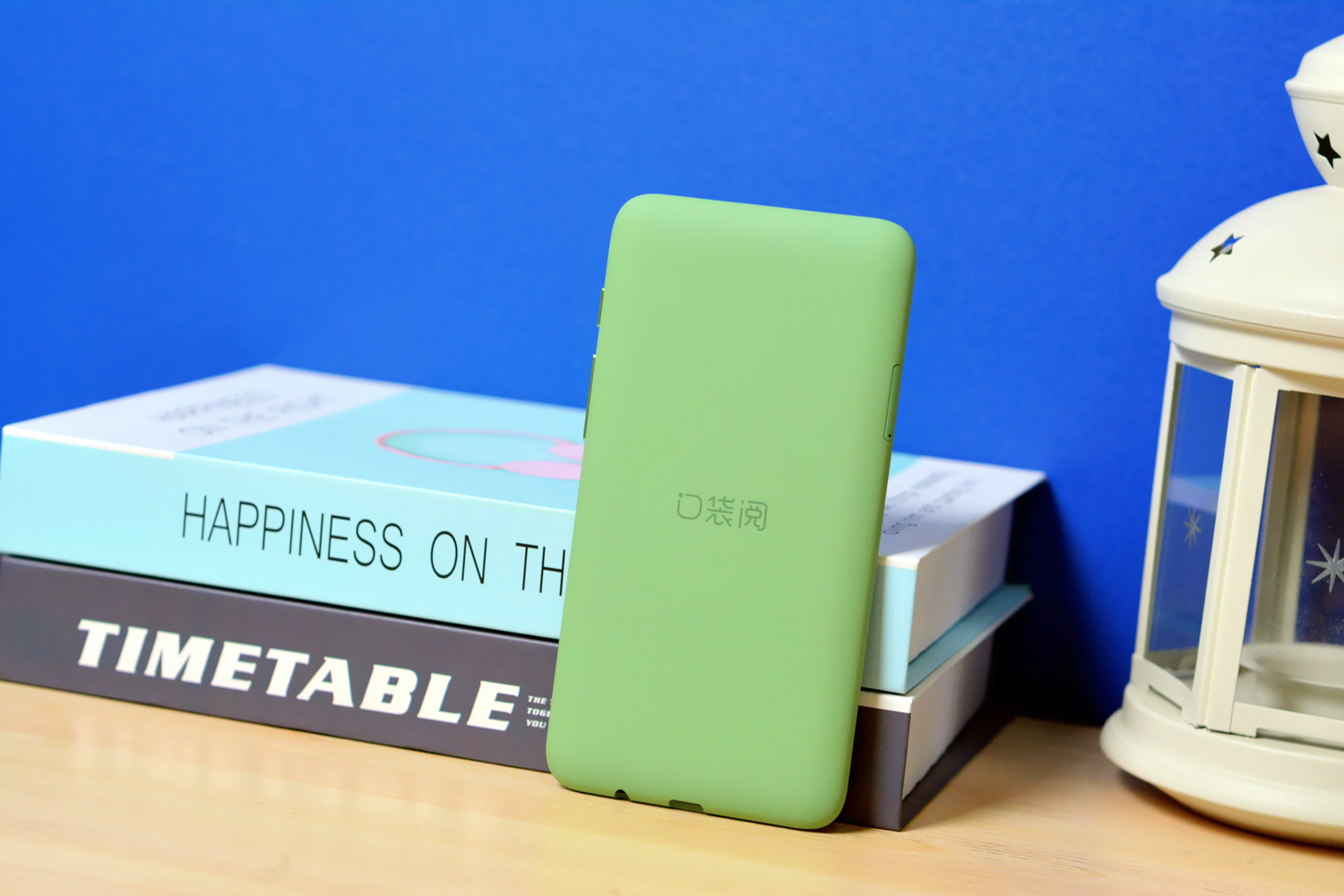 Picture view
Pocket reading can be downloaded to install some application mall software, the galle function is one of them, after installation, you can use the pocket reading to view the picture, but it can only display black and white, so it is good, it is no wonder that the pocket is not added to the camera. Function.
play music
Connect your computer via USB, you can add MP3 music to your pocket, and then you can use it as a music player. The pocket reading supports external placement, supports the wired headset, and can also be played by Bluetooth.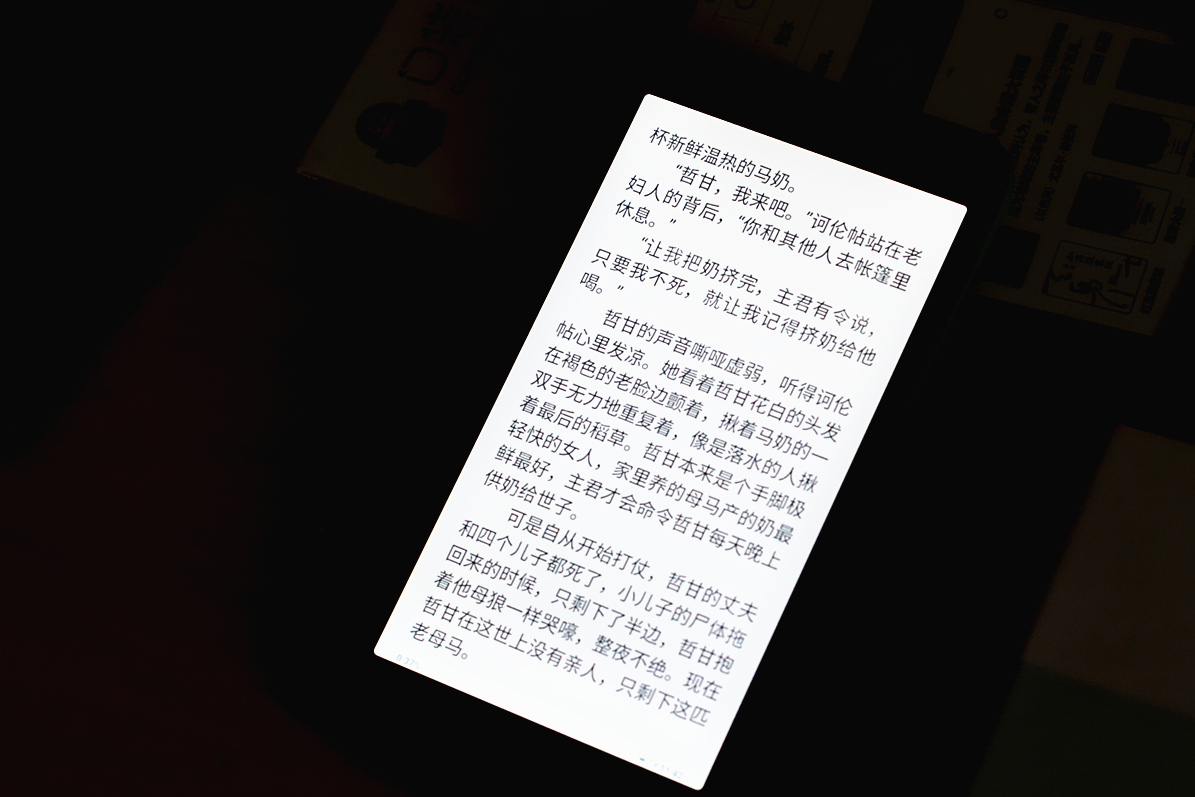 learn English
This is also software downloaded by the application Mall, which supports 4 words, 6-level words, phrase 900 sentences and wonderful sections English learning, which is more practical for people who need to learn English. In addition, what is the one who has never been in this English 3, why not use such learning equipment earlier?
Calculator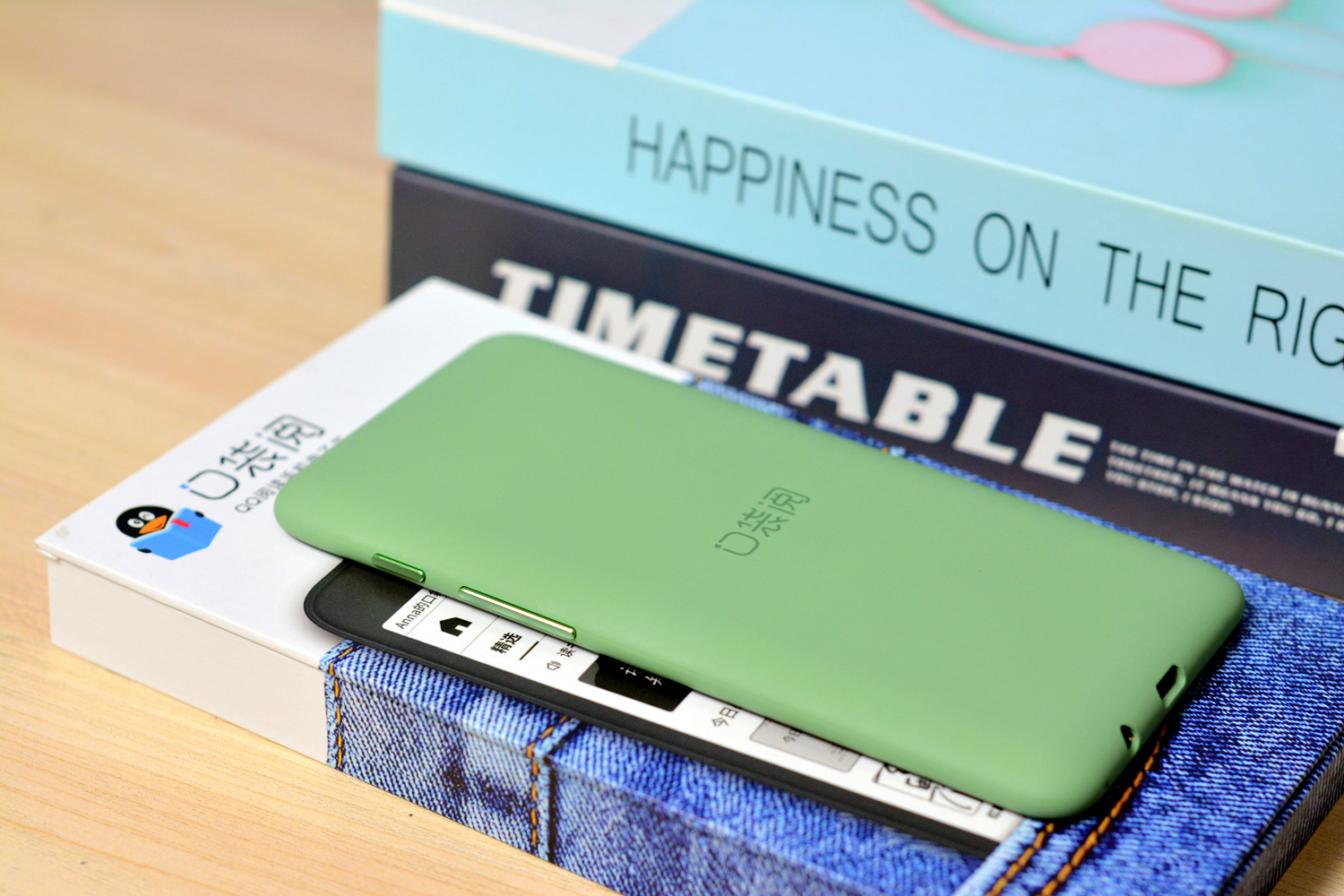 It seems that all mobile phones have the function of calculator, but this ink screen is displayed, which makes it a better texture.
game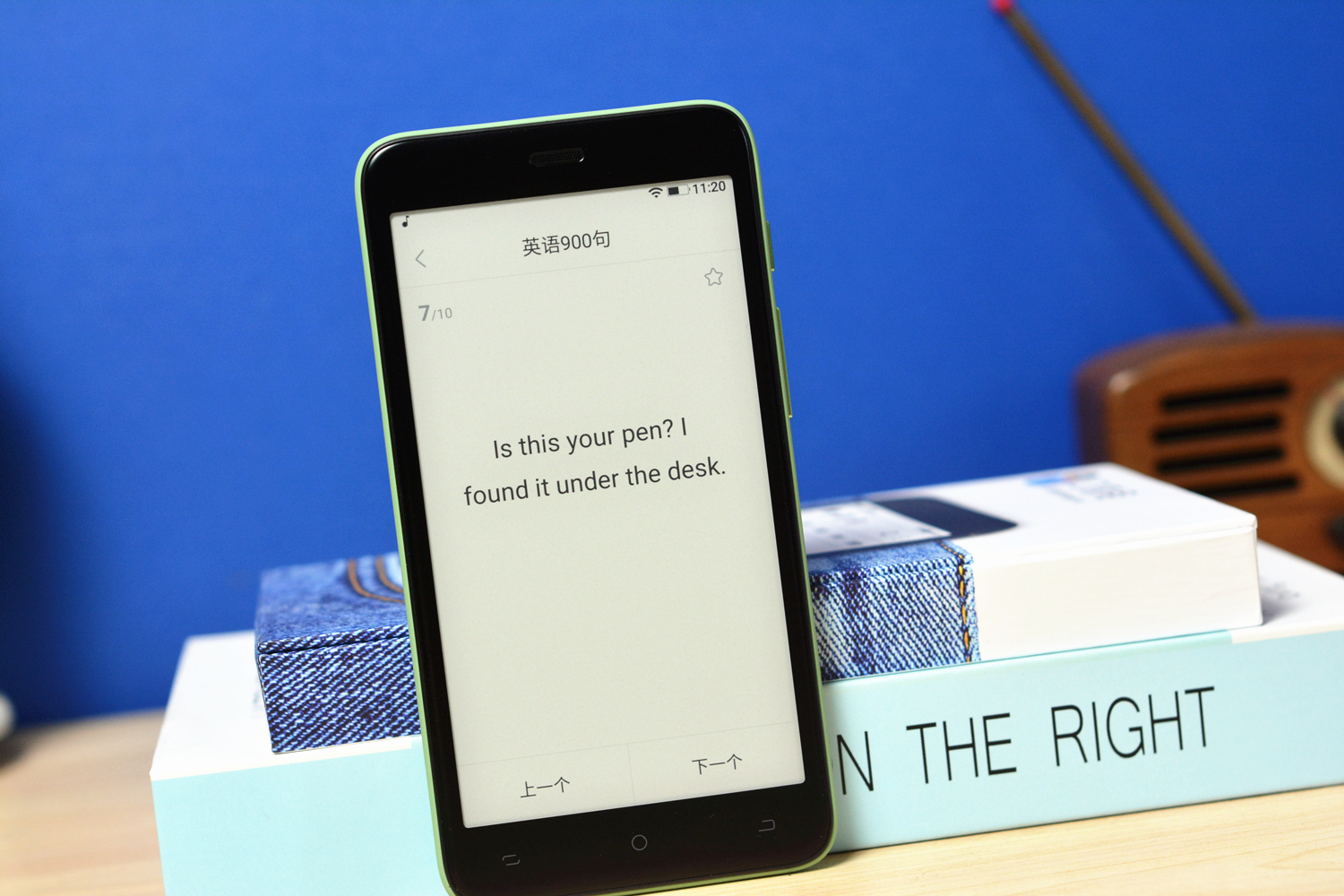 In terms of game, pocket reading mainly installs digital Hualan Road and two games in the game. It can be playable. When you are leisure, you will not waste time. I think it will join in the future. More software and games.
Visit the website
Pocket reading comes with a browser, view some webpages, or look at the news, the experience is not bad, and I also try to browse the video website, find the pocket reading is to play the web video directly, but because the ink screen refresh features Will make you have a feeling of interruption.
Write in the last: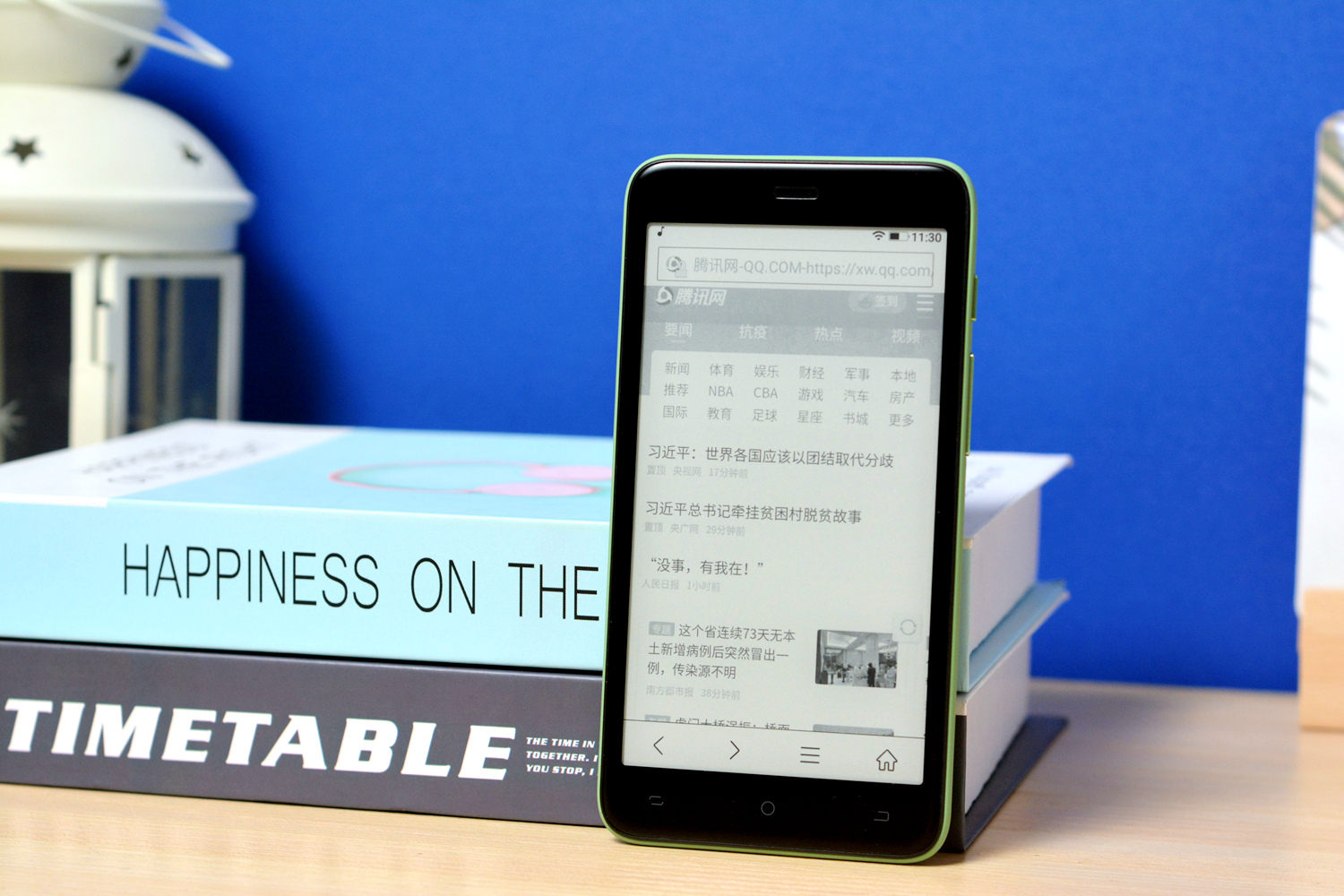 Through a period of use, I found that it is more useful than traditional electrical paper book products, the volume is more compact, carrying more convenient than the mobile phone, but not only puts the ink screen, there is a paper book reading experience, or A full Netcom 4G smartphone, you can make a call to send and send text messages, you can listen to songs, you can learn English, you can browse the web, and you can even use it to play the puzzle game, so in practicality and playability, pocket reading is A better product.
Who is suitable for your pocket? I personally think that if you like reading anytime, it is clear that more portable pockets are better choices, and in addition to the traditional function of the electrical paper book, it can also be used as a mobile phone, or even you can be used as you. WiFi hotspots, it is also suitable as a spare machine. In addition, because there is a variety of reading software in the pocket reading, there are also mainstream functions such as English, listening to songs, browsing the web, and more importantly, it does not support installing third-party applications, apparently this is very suitable for students. Because after they use such a mobile phone, the parents don't have to worry about the child.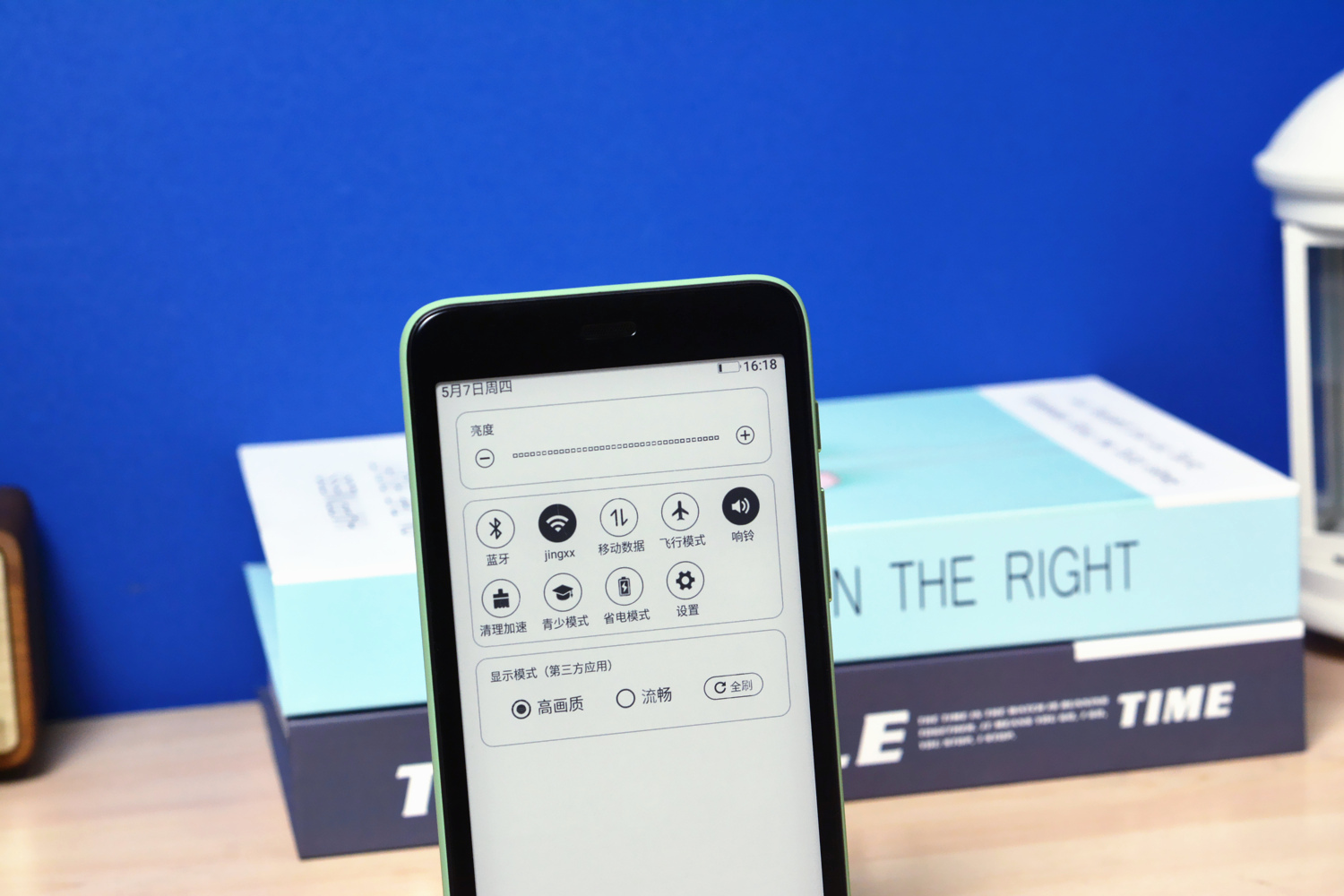 Of course, in order to evaluate objectivity, I still have to talk about some shortcomings of pocket reading. In the process I use, I found that pocket reading does not support PDF format, so for people who like to watch comics, pocket reading It is not suitable, and the other is considering, I also found that the pocket reading is only suitable for the cover, and it is not suitable for the large bucket of the box, so the pocket reading will suit you, you will feel it.
---